I haven't posted a spending update in a while, and we've had several big changes in our life: we bought a house, and we have two young children. Our lives are getting more complex financially, but I think it's still useful to describe where our money is going.
I'm going to start at the beginning of 2014, since that's where the last update ended. We were trying to buy a house, going to open houses and making a few offers, and we didn't want to sign a year-long lease when we could find ourselves with an accepted offer at any point, so we were renting a room from my parents at their house in Medford. We made an offer on the Somerville house in September 2014 and finally closed, after a big mess in February 2015. We moved in early May, after putting in bunch of work redoing the floors etc. It's five bedrooms, divided into two units; we bought it planning to rent the downstairs unit to friends and live with housemates in our unit.
Our first child was born in March 2014. Financially, the main impact has been child care. We've gone through a large number of different childcare arrangements, all with different tradeoffs, and comparing them based just on finances is kind of misleading. For example, for about eight months I worked 7am-3:30 and Julia worked 4:30pm-9:30, with Lily not being in daycare at all. This was by far the cheapest option in terms of spending, since we could be watching her full time, but it meant Julia could only work part time, so less income. Additionally, Julia and I were seeing very little of each other, which was really rough.
Having a kid didn't affect our housing costs for this time period, though, because Lily was in our room with us until she was nearly two. At first we coslept, and then transitioned her to a crib, but she didn't get her own room until January 2016, about a month before Anna was born.
When you rent, it's clear how to think about housing spending: pay money, get housing. Buying is much more complicated, because it's a combination of paying for housing, prepaying for housing, and investing. Additionally, the house has needed a very large amount of work, new roof etc. We can currently kind of think of these as a higher purchase price, but as the house will continue needing maintenance over the years it's more like paying rent.
Here are the details on what we actually spent:
Housing

Rent for a room in a shared house, until 5/1: $500/month
House Purchase: $800k

Financing: $200k down payment, 30y-fixed, 4% interest, $3,500k/month payment.
The value of the land is $500k, which should retain its value, so this is like saving.
The value of the structure is $300k.

Purchase expenses: $6.3k
Intital expenses:

Mercury cleanup: $43.3k
New heat and hot water: $16.5k
Foundation: $11.8k
New Bathroom: $11.7k
Roof: $9.0k
Rewiring part of unit 2: $4.4k
Floor refinishing: $1.1k
Furniture: $850
Other: $10k

Ongoing expenses, for the whole house.

Property taxes: $440/month
Electric: $140/month
Insurance: $130/month
Heat: $120/month
Water and Sewer: $40/month

Rent collected from tenants and housemates: calculated from my rent map as a 2BR and half a 4BR. Total was $3,100/month when we moved in, $4,300/month starting 9/1 as local rents had risen. Includes utilities.

Kids

Childcare

Family daycare 1: $1.0k ($70/day)
Family daycare 2: $5.7k ($75/day)
Family daycare 3: $4.3k ($95/day)
Friend 1: $450 ($90/day)
Friend 2: $150 ($150/day)
Backup care copay: $175 ($35/day)

Medical, including diapers: $1.8k ($50/kid-month)
Gear/nursery: $1.9k ($55/kid-month)
Other: $1.2k ($35/kid-month)
Clothes: $320 ($9/kid-month)

Taxes

Income tax: $1.8k/month
State tax: $1.2k/month
Social Security tax: $750/month
Medicare tax: $390/month

Retirement: $1,500/month (401k)
Personal: $390/month ($45/week each, for entertainment, clothes, etc)
Medical: $370/month (excludes portion work paid)
Food: $228/month
Transportation: $55/month
Donations: $12,231/month (50% of income)
I think the most useful way to look at this is what things would be to approximate a steady state. For childcare our numbers include periods of parental leave, shifted schedules, care for one kid, and care for two kids, so averages aren't very helpful. Instead I'm going to assume full-time care for two kids at $150/day. This comes to $3,470/month.
For house expenses we have both one-time costs (down payment, roof, foundation, etc) and monthly costs (mortgage, heat, electric, etc). To get a comprehensive monthly cost I'm going to roll the one-time costs up and scale our mortgage payment amount up appropriately to approximate a world in which we had financed it all. This adds about $110k to our $800k purchase, and our mortgage payment was based on a $600k loan, so this gives a monthly housing cost of $5,300. Add in the other monthly costs and we're at $6,170, but subtracting payments from tenants and housemates brings it down to $1,870. This is pretty rough: it ignores that we pay taxes on the amount of rent we receive that exceeds our amortized expenses on the rental fraction of the house, and that in the end we end up with a house and land.
| | |
| --- | --- |
| donations | $12,200 |
| taxes | $4,140 |
| childcare | $3,470 |
| housing | $1,870 |
| retirement | $1,500 |
| medical | $370 |
| food | $230 |
| kids-other | $150 |
| adults-other | $145 |
And here's a chart version: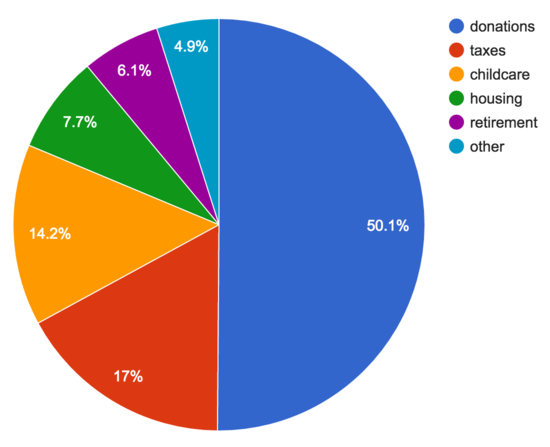 I used to calculate a "spending on ourselves" number that included housing, food, etc but didn't include taxes or saving. I'm not sure whether this should include child expenses? If so, it comes to $75k/year (26%), which is mostly childcare. If not, then it's $31k/year (11%), which is mostly housing. Comparing this to our earlier expenses, this backs up my impression that housing and children are the main way our expenses have risen.
We're actually planning to change both of these! We're looking at adding two large dormers to the third floor of our house, which will get us two additional bedrooms. It's expensive, but local housing prices are high enough that they are cheaper per-bedroom and per-square-foot than the rest of our house. We're also changing childcare, planning to get an au pair, someone who lives with us and looks after the kids. There are a bunch of ways we're excited about this, but financially it's about $1,000/month cheaper.
Comment via: google plus, facebook