A friend of mine has been bootstrapping a business-to-business software-as-a-service startup that's seeing serious growth. It needs someone who can put dedicated effort into scaling it, but my friend is near the end of their career and looking to retire. What do people do in this situation?
More details: they were running a traditional labor-limited small business and they automated some of the work. This automation was a huge improvement and they realized it could be useful to other companies. In early 2019 they had a web app ready and started taking external customers. In late 2020 they started to see serious growth, which has continued. They let me share some numbers: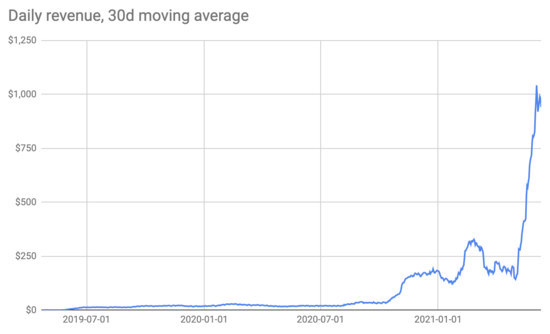 This is a run rate of ~$340k/y, up from ~$100k/y a quarter ago, ~$52k a quarter before that, ~$12k/y a quarter before that, and ~$7k a year ago. That's growth of ~50x in a year, or 7.8% a week, which is extremely good. Expenses are servers ($40/m), plus the time they have been putting into it (~20hr/wk).
more...