I've been curious for a while how well the ventilation at the BIDA contra dance works. This is actually something that we can measure reasonably well by looking at CO2 levels: outside air has about 400 parts-per-million (ppm), while your exhalation is about 40,000ppm. By measuring the concentration of CO2 in the air inside, we can determine how much of the air you're breathing has been through other people first.
I recently got a Temptop M2000, which measures CO2, as well as particle levels (pm2.5 and pm10) and HCHO (formaldehyde). I got it because I'm interested in running some tests on my ceiling fan air filter idea, but now that I have it I want to measure everything. It logs to one minute intervals, and you can export to CSV.
The dance is in the basement of the Cambridge Masonic Hall, and the main room is 66x48 (3200 sqft) with about a 25ft ceiling (80,000 ft3). There are four ceiling fans which we keep on high. We have two large barrel fans, rated for 15,000 CFM on high. We put one blowing in at one end, and one blowing out at the other. In theory that might give us 11 ACH (60 min/hr * (80k ft3 / 15k ft3/min)) but I would expect to see lower performance than that: there are various obstructions, and there is nothing to stop air coming back in around the fan (the opening is not sealed around it).
Here's what I measured, with the monitor in a back corner where I expect the air is most stale: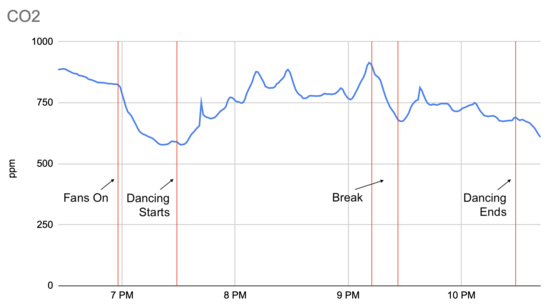 more...