Shortly after buying our house, we decided to
split
an awkwardly shaped 3rd-floor bedroom into a smaller bedroom and a bathroom: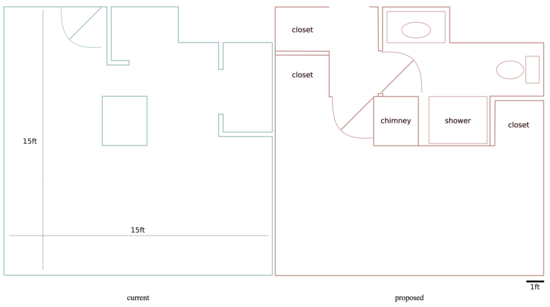 It took a little longer than we expected, and there were some surprises along the way, but it's done now!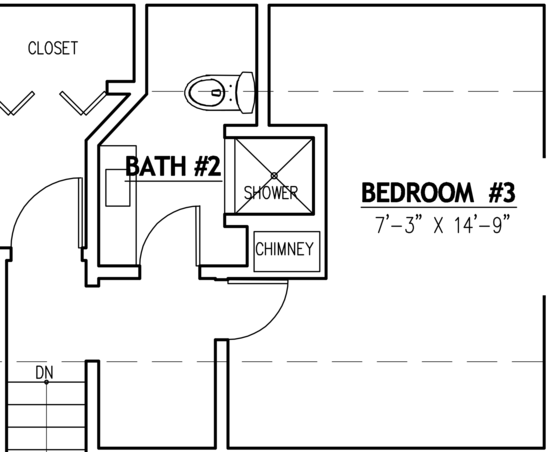 (This image is rotated from the previous ones, sorry!)
In general, the plan was that I would do as much of the work as possible, by myself or with friends. In Massachusetts I can't do electrical or plumbing work, so I was going to hire people to do these, but there's a lot of other work that goes into making a bathroom! That division is mostly what we ended up with, but with the working time being my free weekends it ended up taking a lot longer than we initially expected.
Here's a rough timeline:
Late March:

Calling around to plumbers and electricians to get quotes.

Early April:

Picked plumber and electrician, got permit from the city.

Late April:

Plumber runs new stack and water pipes up from the basement.

May, June:

Demolition

July, August:

On hold while mercury spill is cleaned up

September, October:

Framing

November:

Plumber and electrician do their rough work.

December:

Insulation, Drywall

January:

Drywall finishing, painting

February:

Bathroom floor, plumber and electrician do their final work, vanity construction

March:

Trim, Finishing
Some thoughts:
Every time I've talked to the people in the city's planning department I've been really impressed by how helpful they are.

I picked the plumber mostly because they gave me the lowest quote. This worked out more or less ok: they were responsive and friendly, and put up with the endless delays from me not having things ready for them to do the next step yet. They were a bit sloppy, though, and they weren't as good at visualizing how pipes would move between floors as would have been ideal.

We asked the plumber to do the rough plumbing in two stages: one initial day to run the drain and water lines up to the third floor, with everything else delayed until after I finished the demolition. This was so we could get the pipes run through our housemates' room before they moved in, to save them the disruption. It ended up saving less disruption than I would have liked, because when they finished there was still work they needed to do from the second floor, but it did help some.

Demolition was slow going, because I needed to be very careful around the walls I was taking down probably having lead paint. I followed the guides for homeowners doing this: lots and lots of plastic sheeting, disposable clothing, lead-rated respirator, don't go in and out of the area while you're working. It was hot and dusty work that I did in three segments, and the days I did the work were definitely the three hardest days of the project.

When I removed the flooring in the area that was going to be the bathroom, I pried it up and didn't try to save it. In retrospect, it would have been better to carefully hammer the nails through and save the floor-boards, to get matching wood in case I needed to make a repair elsewhere in the house.

After taking up the floor, I learned that we have 2x6 joists. This meant that the plumber's initial plan of running the pipes through the middle of the joists wouldn't work. On the other hand, I also learned that there was a drop-ceiling below the joists, which meant that with some reshuffling of bathroom fixtures we were able to figure out a plan to hook everything up without running through any joists.

While most of the demolition I did was ceiling and wall, a small portion was sloping ceiling. This was right up against the rafters (2x6"), and when I got my first rough inspection I learned that since I had exposed it I would need to insulate it to R-38. The only way to get that high an R-value in that size space was with closed-cell foam. I asked the inspector if I could use fiberglass and he told me, no, I needed to use spray foam. This was frustrating, since the area that needed foam was just 4x6', well below anyone's minimum job size. I decided to do it myself.

Update 2019-04-27: if I were doing this again I might just bring the sloping section out another 6" to make it thick enough that I could get to R38 with standard fiberglass batts.

I ordered the foam components online, and got googles and another set of disposable coveralls. I set up strong cross-ventilation to minimize fumes, and got to spraying the foam. It was somewhat scary: it's incredibly sticky and not good to breathe. My googles got a thin layer of foam on them, and by the end I wasn't spraying very accurately at all. In the last section I did the foam ended up about 5" thicker than I'd intended because I just couldn't tell what I was doing. People who do a lot of this apparently get special googles with many tear-off layers, and you just remove a layer when it stops being transparent enough.

I had initially planned to finish the drywall myself, but we really wanted to get Lily's room ready for her well before Anna was born so she could move into her own room without feeling displaced. I hired a plasterer, and it took him two and a half days to finish it all. Figuring that he works at least twice as fast as I would, that's at least two full weekends, and it also looks much better than I probably would have managed.

The space where we wanted to put a sink was kind of oddly shaped, so I decided to build a vanity. I thought about a lot of different countertop ideas, got really annoyed at the Home Depot countertop calculator that asks for dimensions and gives you an estimate without taking into account their (large) mandatory minimums, and ended up going with white pre-made laminate and cutting it to size. This meant losing the backsplash, since the stock piece was too deep, so I ran PVC inside corner moulding to around the edges.

We had been thinking we would put in tile, but I ran the numbers through this online calculator and our floor isn't rigid enough to keep them from cracking. We ended up going with sheet vinyl, which also has the benefit of being more waterproof. Cutting it to shape was mildly annoying, but the space is small enough that it wasn't too bad.

A whole bunch of people were really helpful in this. For most of the framing and drywall I was working with Rick and Stewart, which was especially helpful as I hadn't done either of those things before. Stevie, David, Luke, Ross, Bryan, and probably several people whose names I'm forgetting now also helped out in various ways. Thanks everyone!
Here's a cost breakdown:
| | |
| --- | --- |
| $55 | faucet |
| $79 | sink |
| $89 | toilet |
| $127 | demolition supplies |
| $226 | flooring materials |
| $247 | permits |
| $531 | other |
| $635 | framing and drywall materials |
| $700 | roofer (vents for sewer and fan) |
| $1,000 | plasterer (drywall finishing) |
| $1,267 | electrical |
| $6,700 | plumbing |
| $11,656 | total |
With four adults and two kids in this space, having two bathrooms instead of one has been really great. No more waiting for someone else to finish showering and get out of the bathroom, or even coordinating shower times. And while I think it would have been worth it just for the use we'll get out of it over the years, it probably also added more to the value of the house than it cost. [1]

[1] Trying to estimate the effect on home values was kind of awkward. The best way I figured out to do it was to claim my house on Zillow and then see how it changed the estimate for my house when I told it about the bathroom. Telling it that I'd added a 3/4 bath made it increase its estimate by $56k, though, which was more than I would have thought.
Comment via: google plus, facebook