Instead of a primary, Somerville holds preliminary elections. For each role, if there are more than twice as many candidates as spots there's preliminary election. This year that applies to Mayor (four candidates), and the councilors for Wards five (three candidates) and seven (four candidates). For the at-large councilors there are four spots and eight candidates, so they'll all go to the general election.
I think housing is the most important long-term issue for the city: rents and house prices have risen enormously and people are being forced out. Compare 2011 when a typical two-bedroom apartment was about $1700/month: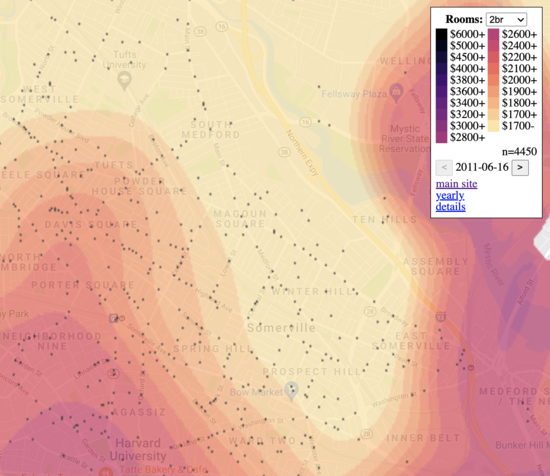 to 2019 where it's more like $2800: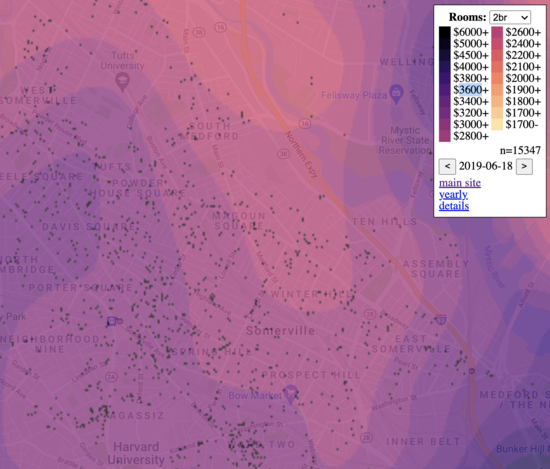 Source and details. Note that 2021 rents are lower because of covid, but this is temporary.
In looking at candidates, the biggest thing I want to see is a commitment to lots of new housing. While I do think there are pros and cons to whether you build market rate, affordable, or public housing, I think this question is pretty small compared to how much housing you're talking about. I'd love to see us build so much housing that the cost of housing falls to the cost of construction. This means I'm looking for candidates who are enthusiastic about density, whether by general upzoning or as a carrot to encourage the construction of affordable housing (density bonuses). We do now have an affordable housing overlay, and I think it's great, but I'd like to see it expanded.
Overall, I was excited to see broad acknowledgment that this is a critical issue, and general support for the density bonus system. I think most of the candidates, even the ones who aren't my favorites, would still be great if elected, and I'm glad we have so many good choices.
Here are my thoughts on each, with personal endorsements in bold:
Mayor
Ward 5 Councillor
Ward 7 Councillor
The remaining seats don't have a preliminary election, but here are thoughts on the candidates for contested seats:
Councillors at Large
Ward 2 Councillor