I recently ran ethernet to my
desk
at
home
, and I've been really impressed with how much it helps for video calls. Not only are garbled sections less common, I'm finding us talking over each other less.
This makes a lot of sense: wifi's going to struggle more with latency (lag) because the radio spectrum is a noisy shared space. I think I hadn't realized how much of an effect a wired connection would have on latency, or how much better a video call is when latency is lower. This is essentially the same reason serious multiplayer gamers use wired connections, but I hadn't been thinking of it that way.
The professional way to run ethernet is to use a roll of ethernet cable, jacks, and a cable crimper. This lets you make very small holes, just the size of the cable. I don't have these, it's not a good time for borrowing things, and I didn't expect to be doing enough ethernet for it to be worth it to buy one. So I got a long enough cable for the whole run, erring on the "much too long" side, and made holes big enough for the cable and jack. I was very careful of the jack as I went, since if the jack got damaged I'd have needed to start over.
The router was three rooms away, and I could run the cable through the attic. I picked places at both ends that were relatively inconspicuous, poked nails up through the ceiling in each place, found the other ends of the nails in the attic, expanded the holes to be big enough for the cable, ran the cable, and cleaned up the dust. My laptop doesn't have an ethernet port, but I had an adapter. It took me about an hour from deciding to run the cable to having everything working.
While it's hard to quantify the effect on the calls, to check that I wasn't imagining things I ran some latency tests with ping. I picked an IP at my ISP and ran:

ping -c 256 -i 0.1 [IP]

This tells my computer to send 256 packets to that IP, one every 100ms, and time how long they take to come back. First I tested on a relatively idle network, with my computer not doing anything and most of my housemates asleep: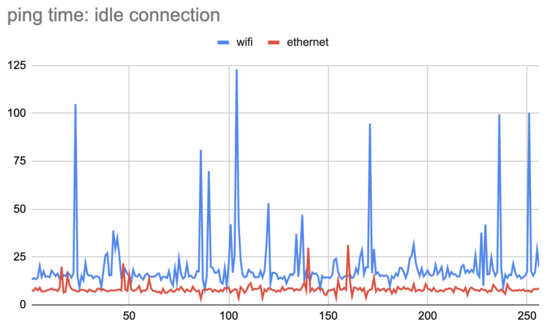 You can see that ethernet is generally a bit better than wifi, with occasional blips, though even the blips aren't that bad. Then I tested on a heavily loaded connection, by visiting a page with enough images that it wouldn't finish downloading them before the test stopped: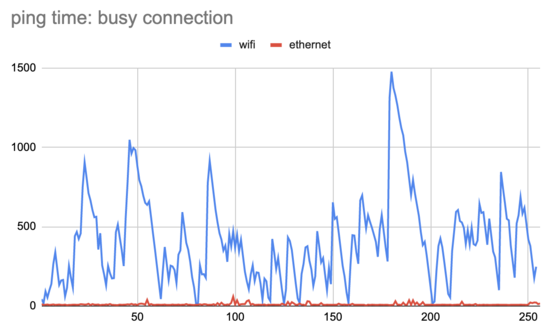 Now you can see that wifi is really struggling, while ethernet is comparatively solid. In fact, heavily loaded ethernet does better than idle wifi: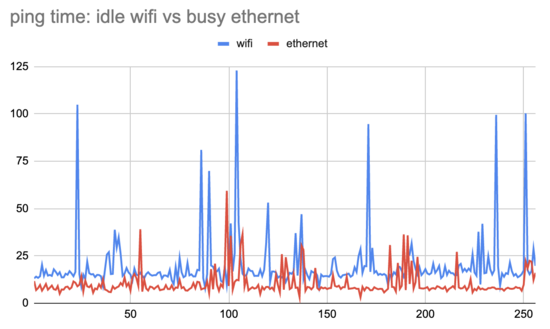 Since you don't get the real benefits of a wired connection until both sides of the connection are wired, now I need to convince all my teammates to run ethernet.