I've recently become a fan of wired headsets for video calls for two reasons: headsets are good at keeping out background noise, and wired is good for minimizing latency.
When I started working from home I would need to constantly mute and unmute myself on video calls. I'm working from my bedroom, which is near the kids bedroom's and their playing can be (intermittently) loud. I would leave myself muted except to talk, but needing to remember to unmute was annoying, and occasionally they would be being loud when I needed to say something. A headset with a boom mic (Jabra Evolve 40, via the Wirecutter) helped enormously. The kids can be shouting in the same room as me, and it essentially won't pick it up. For example, here's audio of me speaking. When wearing the headset it's easily audible, while if I speak even 1ft from the headset it's barely audible (24dB quieter) and at 5ft it's an enormous 37dB quieter:
Similarly, I took a recording of me speaking and then closing my bedroom door, with the headset on vs with my laptop mic. The peak of the door closing is 28dB higher with the laptop mic: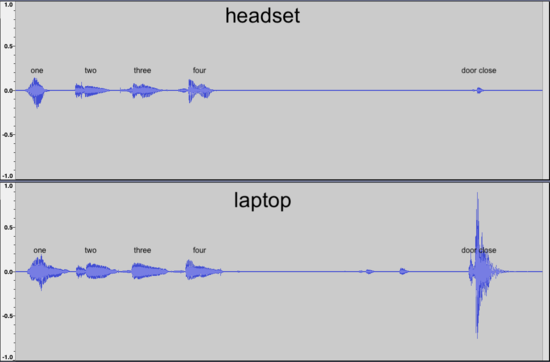 Combined with the automatic gate in most video call software, I can just leave my mic on all the time and talk frictionlessly.
With headsets one important question is wired vs wireless. With wired you need to deal with a wire, while with wireless you have to deal with charging, pairing, and higher latency. After my experience with setting up wired internet and realizing how much latency matters for feeling like you're really in the same place, this seems like a major consideration to me. But Bluetooth headset specs don't mention it, and the Wirecutter doesn't measure it or even discuss it. For gaming you can buy wireless headsets that use custom radio setups so this does sound like enough of a problem that some people care about it. I found one site that ran latency tests and it looks like Bluetooth normally adds ~150-200ms of latency but if you can get both sides of the connection to understand the aptX codec in low-latency mode you can get it down to ~25ms. Since we're talking about using a headset to participate in a conversation then doubling these numbers sounds right.
My housemate lent me a Bose QC 35 II headset for testing and I measured its latency with my MacBook Pro. I paired them over Bluetooth, and then measured how long it took for a ping to go from my computer to the headphones, to the microphone, and back to my computer. Then I ran the same test with my wired headset plugged into the MacBook's 3.5mm jack to compare. Wireless added 325ms of round-trip latency: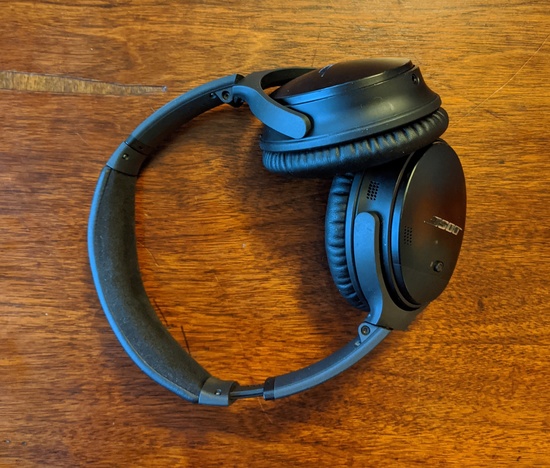 I also tested the Mac's mic and speakers, and this was the same low latency as the wired headset.
This means that if you switch from no headset to a bluetooth headset you might improve background noise but pay for it in latency, and a wired headset makes a lot more sense.
In general, I think people who want good video meetings should be following the standard advice for lag-minimizing gamers and people who deal with audio in noisy environments: wired everything, and put the mic as close to the source as you can.