The
Impossible Burger
is supposed to be pretty good: I've seen people in the animal-focused part of the EA movement saying that it's as good as a beef burger and the real challenge now is outreach. I was curious how it would do in a blind test, and when our cafeteria had Impossible Burgers available today I decided to run one.
Here's the Impossible Burger patty: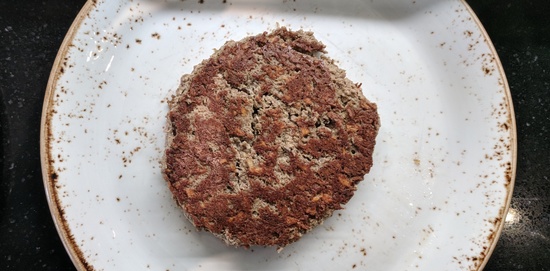 And here's the beef patty: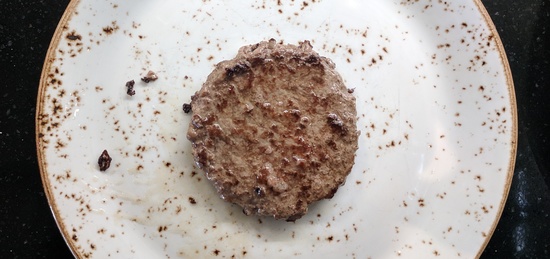 I was mostly interested in comparing the patties, since that's going to give the most signal, is less work, and is easier to get volunteers for since it's smaller. A coworker ran another version of the test with fully dressed burgers (cheddar, lettuce, tomato, just mayo, bun) and fewer participants: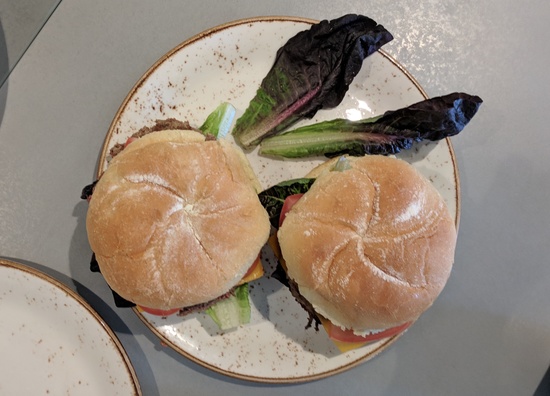 I cut up both burgers. Impossible: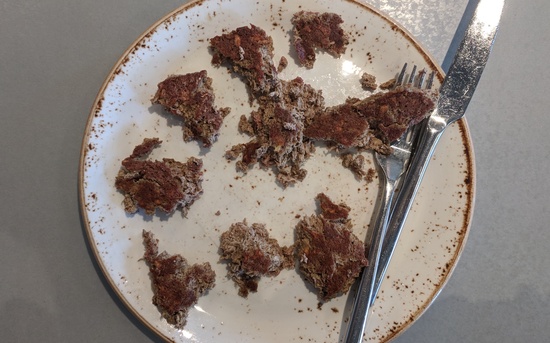 Beef: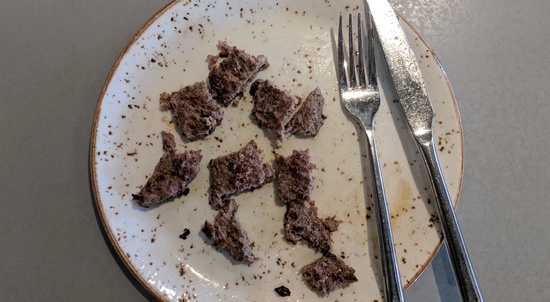 The impossible burger was hard to keep coherent while cutting, which is indicative of a different texture but shouldn't be directly considered since you normally just bite burgers.
Nine people tried them, eyes closed, with someone else putting first one on their fork and then the other. I didn't do the same order for each person, but also didn't bother flipping coins.
Everyone correctly identified which was which immediately. I've marked their reactions (i,b) for Impossible first, or (b,i) for beef first, and put them in the order they tried the burgers:
(i,b) Liked both, thought the beef one was greasier, similar outer crust. After trying the dressed burger [most people didn't try the dressed one] the Impossible would pass but the beef burger was tastier.

(b,i) Both are tasty, viable burger replacement. If I'm hungry I'd prefer the beef one.

(i,b) Preferred beef, Impossible was very lean, maybe like turkey? But decent. [This one was me.]

(i,b) Weird taste for Impossible, maybe it's extra salty or has a weird spice. Also too soft: the Impossible one was softer, pushed back less on eating.

(b,i) The beef one helf together better, was a good toughness, juicy, not a lot of flavor. Impossible burger was more flavorful, more crispy. Preferred Impossible.

(i,b) Impossible one tasted like it could have also been real, though less clearly. Both were a little cold and so tasted mildly stale. This was a harder comparison than I was expecting! The beef one tasted more like meat, the flavor of the Impossible one was a little strange.

(i,b) Not bad, better than other imitation meats, texture made much more of a difference than taste.

(b,i) Not bad, quite pleasant, wouldn't object to eating it. Texture was the main difference. After trying the dressed burger [most people didn't try the dressed one] Impossible is too salty. Overall impressed.

(i,b) In a full burger wouldn't mind Impossible, but don't prefer it.
My main take-away is that it completely did not succeed at convincing people it was a burger made of ground beef, but it also tasted much better than past attempts. I would be reasonably happy eating one, much more so than any of the supermarket vegan burger patties I tested last time.
(Going into this my expectation was that people would be able to tell them apart, because I'm sure Impossible Foods has run this test internally and if people couldn't tell them apart they'd be using that in their marketing.)
Comment via: google plus, facebook