We had a singing party recently, following a pattern that feels familiar and standard to me though I don't know how universal it really is. Potluck dinner, followed by people picking songs out of
Rise Up Singing
with accompaniment by a few people on guitar/piano/mandolin/etc. I grew up with my parents hosting and attending this kind of party a few times a year, and have enjoyed hosting them every so often now that we have a good space for it.
In my cohort it's relatively common for people to have copies of Rise up Singing, and my family also has a stack of them (cast-offs from a quaker school that bought new copies after these became too ragged). There's a sequel out, Rise Again, but fewer people have copies. This makes singing songs from this book less practical, since there tend not to be enough lyrics to go around. I'm thinking of maybe putting in an order for a bunch of these to have available, but before doing this I wanted to take a quick pass through the book and make sure there were enough songs in it I thought would go well.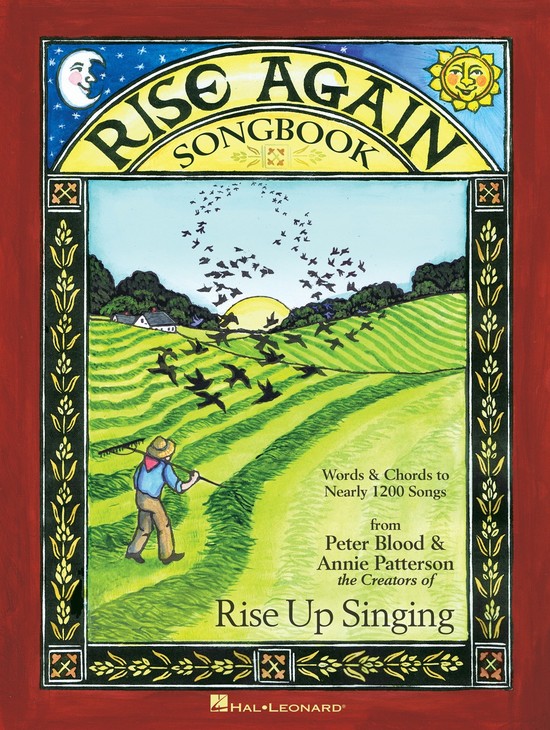 There are many songs I kind of know and would go well with other people leading, and a lot of songs that I didn't recognize from quickly skimming the title and lyrics but probably actually do know some. So I've ignored those, and these are just the ones I'm most excited about singing with a group:
Bad Bad Leroy Brown - p260
Brown Eyed Girl - p261
Can't Help Falling in Love With You - p231
Cats in the Cradle [1] -p62
Christmas in the Trenches [1] -p199
Closer to Fine - p83
Don't Stop Believing - p261
Gentle Arms of Eden - p43
Hallelujah (Leonard Cohen) - p37
I Can See Clearly Now - p193
I Don't Want to Live on the Moon - p160
I Was Born About 10,000 Years Ago - p92
I'm a Believer - p37
If I Had a Boat - p37
Leaving on a Jet Plane - p279
Let it Go (Frozen) - p30
Me and Bobby McGee - p282
Rainbow Connection - p39
Stand By Me - p87
The Band Played Waltzing Matilda [1] - p197
The Bare Necessities - p210
Under the Boardwalk - p176
Wagon Wheel - p281
This is about 10% of what I would have come up with on a pass through Rise up Singing [2], and a bit lower than I would have hoped. But I think there are probably a lot of other songs in the book that I will be excited about once we've tried them, so I'm leaning towards going ahead with buying a bunch.
Update 2018-01-29: I took photos of the Rise Again index, since the song list doesn't seem to be available online: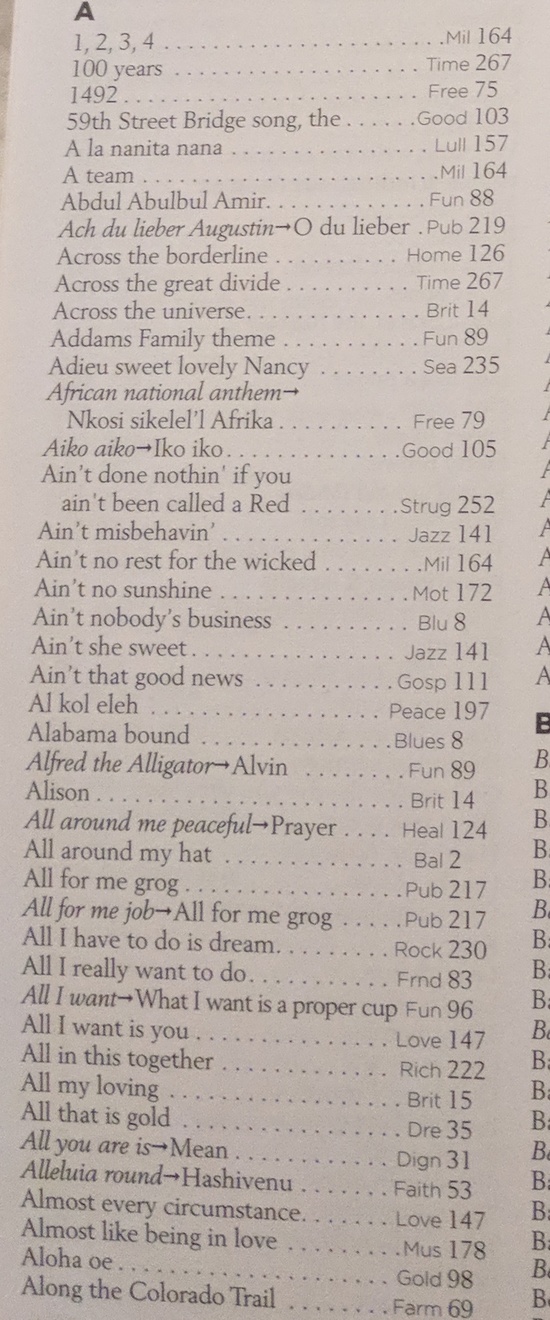 [1] These ones might not be good picks: they tend to make me sad and I don't know if I could sing all the way through them without tearing up.
[2] About ten years ago I took a pass through Rise up Singing and counted that I'd be comfortable leading 403 (34%) of the songs. That's a lower bar than I'm using here, though.
Comment via: google plus, facebook