Julia and I were curious about vegan burgers, and decided to do a blind test. We walked down to Whole Foods, which has a reasonable selection of vegan products, and bought the three vegan bugers that looked like they were trying to imitate beef burgers: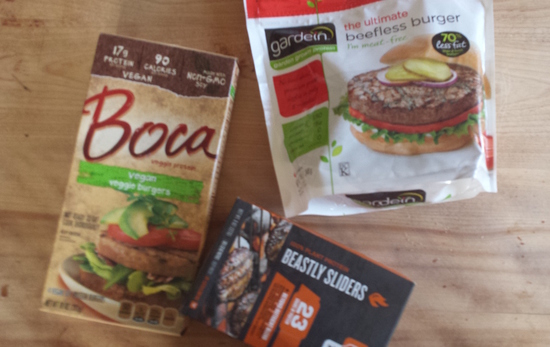 These were:
For all of this, we were all fully blinded: Julia unpackaged them, copied down the cooking instrutions, and labeled them A/B/C. Then I relabled them 2/4/5 (from dice rolls), cooked them, and tasted them.
For the grilling, I followed the manufacturer instructions, including brushing them with oil: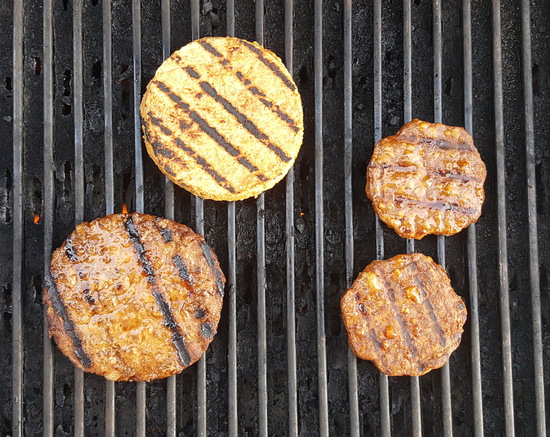 That's the Boca on top, Gardin on the bottom, and two of the Beyond Meat sliders on the right. Both the Gardin and the Beyond Meat ones looked very realistic while cooking, especially the Gardin. The Boca looked kind of silly.
When they were done I cut them into squares, primarily so we couldn't tell apart the sliders and the full size ones: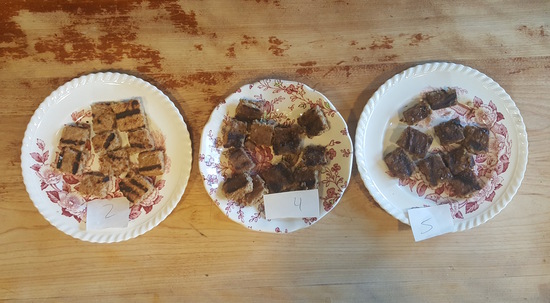 My view, tasting them:
Boca

not very interesting, slightly too salty, flat, but no objectionable flavors. With ketchup and bread, fine to eat.

Gardin

good texture, looks great, weird flavor, like a specific strange off-taste. With ketchup and bread, still bad off-taste.

Beyond Meat

Texture weird, kind of slicy, off flavor. With ketchup and bread, off flavor diminished but still not great.
My preference was Boca, then Beyond Meat, then Gardin. Julia's was a tie between Gardin and Beyond Meat, followed by Boca. My (vegetarian) sister also participated, and rated them Boca, then Gardin, then Beyond Meat.
Comparing to the (non blinded, non contemporaneous) black bean burgers our housemate David makes, we prefered his burgers to all three of these. It's quite possible that store-bought veggie burgers that weren't trying to imitate beef would have been tastier.
Update 2016-07-24: We only ate half of these the first time, and froze the rest, so we could do another round when my vegan brother in law got back from traveling. They all froze fine, no observable difference. His preference was Boca, then Gardin, then a large gap, then Beyond Meat. Julia also changed her mind about the Beyond Meat one, and on second tasting ranks it below the Boca burger.

[1] These were the "vegan veggie burgers", not the "original vegan veggie burgers". The ones with 17g protein per burger, not 13g.
Comment via: google plus, facebook