We have lamps in our bedroom, and we were thinking it might be nice to wire up some switchable outlets. Ideally with a three-way switch, one at the doorway and one at our bed. Dimming would be nice too, though not a dealbreaker. This would be quite a lot of work, though, running new wires. And what if we wanted to move our bed at some point?
The modern solution would be Internet of Things smart outlets, as part of a smart home system. While it would be nice to be able to turn the lights on and off vocally, I don't want to deal with Wi-Fi issues and integration hiccups: I just want light switches.
It turns out this product also exists: switches that talk wirelessly with a box you put between your lamp and the wall. The switches can be battery powered, and the batteries last a long time because you aren't doing that much switching. I got two of these GE "mySelectSmart" ones (~$25/each). I was a little bit worried about whether I would be control both sockets with both switches, but I followed the pairing process for each pair and it all works.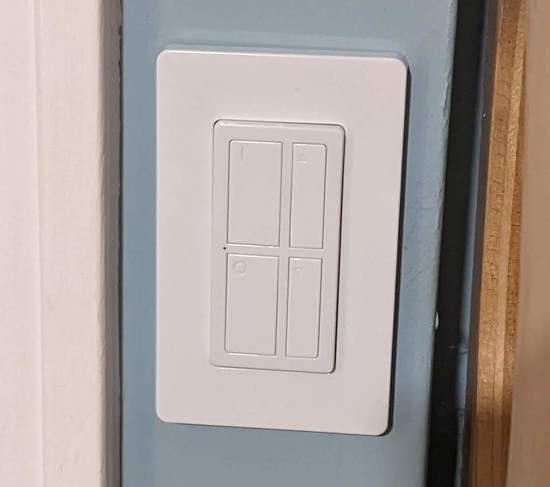 They do what they're supposed to, and I don't have to think about them!
One downside of this setup is that the socket is always going to draw a little bit of power, even when off, because it needs to be listening for the wireless signal it tells it to turn on. But how big of an issue is this? I measured, and it draws 0.3W when off. Over a year that's ~2.6 kWh, or $0.55. One of these would have to last ~45 years before the electricity cost caught up with the $25 initial purchase price. And installing hardwired switchable outlets wouldn't pay for itself, even if we kept the configuration static for a century.