After wearing glasses for about half my life, I decided to try
photochromic lenses
. These darken when exposed to sunlight, as if I had put on sunglasses. It's pretty neat!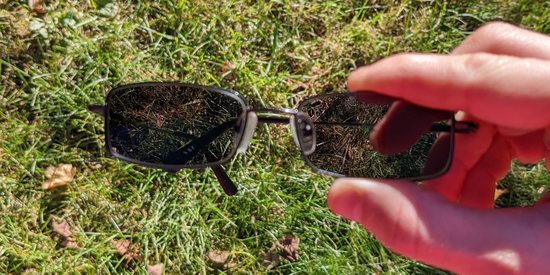 I got them in early summer, and I have mixed feelings. It was nice to be able to hang out in really bright sunlight without needing to squint or shade my eyes. This has never been something that bothered me very much, and I never used to wear sunglasses, but it was nice to have a bit less light.
On the other hand, as I wore them more, it was starting to feel a bit depressing. Colors were not as bright, and the world seemed less alive. Especially as we got farther into winter I was really preferring the view around the edges of my glasses. I decided to get an otherwise identical pair, but with regular lenses—it's pretty great how buying glasses online has made them so much cheaper that I can get an extra pair without feeling extravagant!
So far I like the regular glasses better, but I think I would prefer photochromics in really strong sunlight? Is there such a thing as mildly photochromic lenses, which stay clear on a typical day but darken in intense sunlight?