December 23rd, 2013
stuff
I carry a lot of things around with me wherever I go. These are divided into two categories: backpack and pockets. In my pockets I keep things I really need to have with me or that I use often, high priority storage, while my backpack has the rest: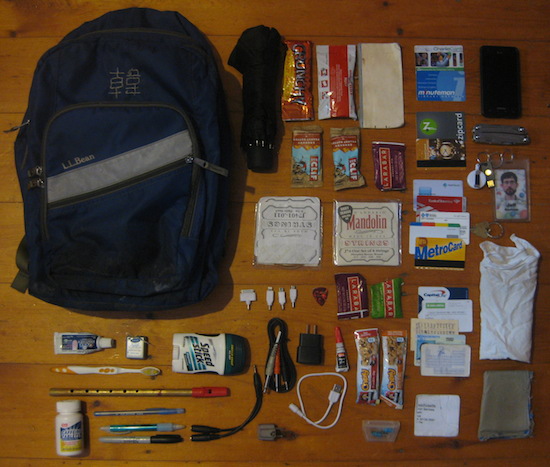 The rightmost column goes in pockets, the second rightmost is the contents of my wallet, and everything else lives in my backpack. Full list:
Right Front Pocket:

House key
Multitool
Wallet

Charlie Card (MBTA subway and bus pass)
Library card
Zipcar card (never used)
MetroCard (MTA stored value card)
Health savings account card
Bank check card
Health Insurance card
Work credit card
Another MetroCard
Credit card
Dental insurance card
List of useful phone numbers, about a year out of date
Driver's license
Periodic table
Printout of MBTA shoes policy transcript and board of health letter.
Cash (variable, not pictured)

Left Front Pocket:
Left Back Pocket:
Backpack

Toothpaste
Toothbrush
Dental floss
Deodorant
Penny whistle
Pens
Headphone splitter
Grounded/ungrounded AC adapter
1/8" TRS to dual 1/4" TS adapter
AC to USB adapter
USB to microusb/miniusb/iphone/lightning adapter
Superglue
Mandolin pick
Mandolin strings (there's not enough room in my mandolin case)
Umbrella
Emergency food x9 (~1300 calories)
Earplugs
Checkbook
I'm relatively happy with this,but open to suggestions. Is there anything else that would make sense here? The biggest thing I miss is water, but it's heavy enough and available enough that I think I'm happier not carrying it by default.
(Not pictured: clothes, glasses, things I've memorized. My backpack usually also has my laptop and sometimes its charger, but I don't think of these as being in the "always have with me" category.)
Update 2017-09-24: last year I did one of these for Lily: r/EDCL 2/F/MA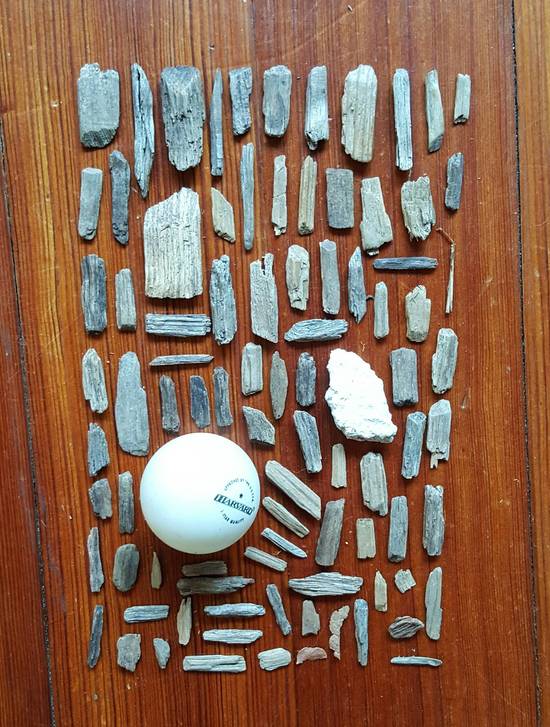 Comment via: google plus, facebook, r/EDC