I'm
thinking about going back to earning to give
, and earlier this week I wrote:
My main reservation about earning to give continues to be that I think the most important things are mostly constrained by people, not money.
David
asked
if I had a post explaining why I think this, and it looks like I don't, so I should probably try. I'm a bit reticent to be writing this because everything involved is so uncertain, but it's at least better to lay out my reasons than to just make assertions.
For the most part, I agree with 80k's why you should focus more on talent gaps, not funding gaps. There are a lot of talent-constrained valuable things, for example:
Working in government (foreign service, funding allocation, ...)
Starting new charities GiveWell or Open Phil would like to fund (like CS:H)
Starting for-profits in low-income countries
Research (global catastrophic risks, medical, ...)
Additionally, Good Ventures has been ramping up their funding dramatically [1], and it's now clear that they have a lot of overlap with EAs in what they want to fund, including AMF, ACE, DtWI, GiveDirectly, 80k, FHI, MIRI, SCI, THL, MFA, and CFAR. While Open Phil is the biggest funder here there are other funders now as well; for example, this 2015 donation.
This is far more money than was previously available, and should shift our sense of how to prioritize earning to give vs doing things directly. My earlier writing (2013-03, 2013-08) and other things from that era (like the comments on this post) were mostly in the context of there not being much funding available.
On the other hand, I think the capacity for more funds is still pretty substantial, well beyond what current funders have available. GiveWell's top charities still have major unmet room for more funding every year, and if nothing else the amount of money that could go to cash transfers is enormous.
There are also many ways that EA organizations haven't adjusted yet to the landscape changing from very tight funding to more available funding. Higher pay would probably increase the number of EAs you're able to hire, but even if you can't generally turn more money into more EA labor, my understanding is these organizations currently run almost entirely on EA labor. There are lots of tasks (proofreading, accounting, HR) that could be done by non-EA professionals, hired or contracted, and as the organizations start to explore this I think they'll be better able to use funding.
On balance, I think additional funding is less valuable than it was, though still valuable enough that some people should be earning to give, and given my constraints I think it's currently the best fit for me.

[1] Good Ventures started working with GiveWell in 2012 [2], and they jointly formed the Open Philanthropy Project (Open Phil) in in 2014 [3] They're still scaling up, and I'm estimating [4] they'll grant over $200M this year: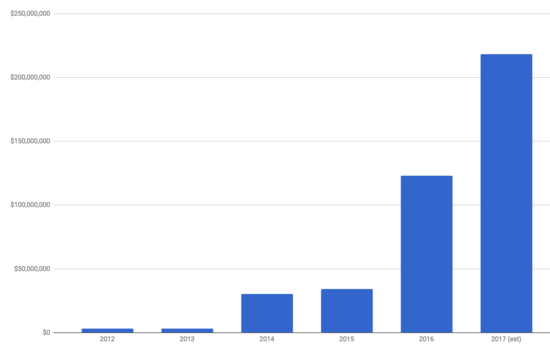 Update 2018-03-12: Checking their grants page I now see a total of $282M for 2017, a bit more than the $220M I extrapolated from their Jan-Jul giving.
Since Open Phil plans to spend down Moskovitz and Tuna's money "before we die, and ideally well before we die," and that's currently something like $16B, I'd guess maybe one or two more doublings as they continue to ramp up capacity.
[2] The earliest thing I find on GiveWell's website here is this policy from June 2012, at which point they were already sharing office space. So it's possible that this goes back farther?
[3] The 2014 post I linked to is a about rebranding of "GiveWell Labs" to the "Open Philanthropy Project", and I think was mostly about trying to make clear a change that had already happened. The September 2011 Announcing GiveWell Labs doesn't mention Good Ventures (though it does mention a $1M pre-commitment) so I'm not sure whether GiveWell and Good Ventures were already working together at this point.
[4] Data comes from Open Phil's grants page. For 2017 I've taken their current 2017 giving ($140M through July) and adjusted for them historically (2012-2016) making 64% of their grants by dollars in January through July.
Comment via: google plus, facebook