Two years ago I wrote
comparing Market Basket and Costco prices
, Market Basket being the cheapest local grocery store, trying to figure out whether we would save money with a Costco membership. I ended up deciding Costco wasn't worth it, and started making occasional trips to Market Basket to stock up on non-perishibles. I recently did one of those trips [1] and I decided to keep track of what I bought and how much it was, making this much more accurate than last time where I just estimated how much we would be buying. Data is in
this sheet
.
This time I decided to compare against Peapod, which is an online grocery store that is connected to Stop & Shop. I think their prices are slightly higher than the in-store ones, but they're generally much lower than Instacart's.
In total I spent $697 at Market Basket and would have spent $943 on Peapod (including a $7 delivery fee). The savings varied by product, of course, so here's a chart breaking down overall savings: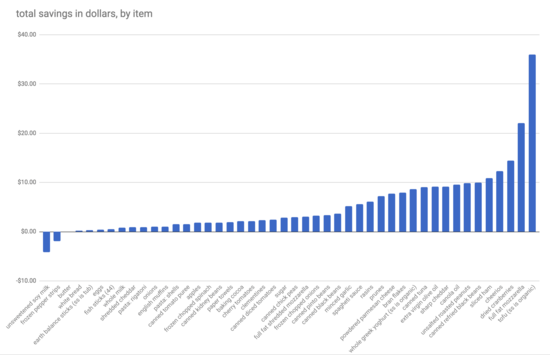 And here's one with percentage savings by product (which means we're no longer weighting by how much of my trip each product comprised):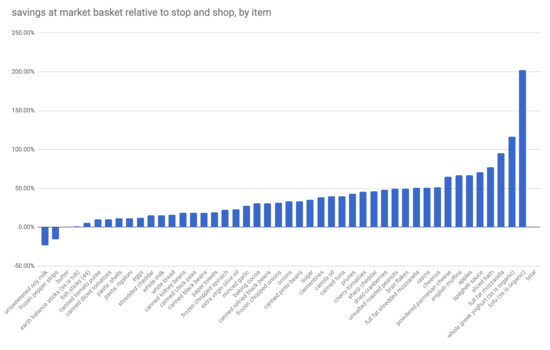 The savings do seem to be large enough that it's worth still doing this.
(I'm comparing to Peapod because the alternative to occasional large Market Basket shops is either Peapod or bringing things home bit by bit from the Star Market in Porter Square, and Star is about the same cost as Peapod.)
I also do like having extra food in the house, mostly because this means I can cook without going to the store if I'm short of time, but also just in case.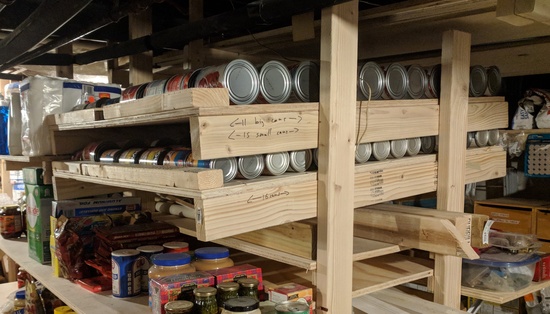 Slightly inclined shelf I made to make it easier to rotate cans.

[1] We have a driveway and no car, and live reasonably close to the airport. Occasionally musician friends will leave their cars in our driveway for a while when they're on tour elsewhere, and we'll temporarily be a family with a car. I try to do a Market Basket run while we have one. (Is this barter?)
Comment via: google plus, facebook