Tomorrow Lily and I leave Somerville for a big trip: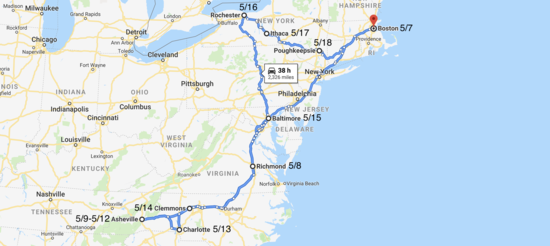 We're driving to Richmond on Wednesday, where I'll leave Lily with her grandparents and drive on to Asheville. I'm playing Thursday night at Warren Wilson with the Free Raisins and then we play LEAF. Then I'll pick up Lily and drive back to Boston playing dances with Cecilia Vacanti as Kingfisher.
Dances:
Thursday 5/9: Free Raisins in Asheville
Friday 5/10: Free Raisins at LEAF
Saturday 5/11: Free Raisins at LEAF
Sunday 5/12: Free Raisins at LEAF
Monday 5/13: Kingfisher in Charlotte
Tuesday 5/14: Kingfisher in Clemmons
Wednesday 5/15: Kingfisher in Baltimore
Thursday 5/16: Kingfisher in Rochester
Friday 5/17: Kingfisher in Ithaca
Saturday 5/18: Kingfisher in Poughkeepsie
I made a Facebook event for the Kingfisher tour (fb) but FB seems to have removed the ability to show which of your friends are in which cities and I don't remember well enough to figure out who I should invite.
Comment via: facebook