A few months ago I
stumbled
into an edit war on Wikipedia. I noticed that Wikipedia's page on
Jacy Reese
was being, essentially, guarded from having any mention that he previously went by his full name. There was a pattern where someone would notice this information was missing, add it, and then it would be reverted soon after.
The main user guarding the page was Bodole, and someone pointed me yesterday to where they've been banned from editing Jacy's page for three months. The discussion there was another interesting window into how Wikipedia handles disputes, so after reading it I thought it would be interesting to review:
User Drmies edited the page to remove a list of articles Jacy had published ("rm linkfarm. we list books, not articles", link). Drmies is an experienced editor, making a routine cleanup.

User Bodole reverts the change ("Many BLP list articles. Please discuss on talk page if you think this should be an exception.", link).

Drmies reverts the revert ("It's the other way around. what you are doing is promoting this person by linking a set of articles. if you have secondary sources that prove these articles are worth noticing, that's a different matter", link)

Bodole reverts the reversion of the revert ("You are edit warring. Please stop. Discuss on the talk page if you insist. See the WP:BRD cycle", link) and puts a warning (link) on Drimes' talk page.

Drimes responds there with "Aw boohoo" (link)

Drmies reverts the reversion of the reversion of the revert ("see talk page", link) and marks the page as being subject to Wikipedia:Conflict of Interest (link). It looks to me like Drmies thinks Bodole may either be Jacy or someone closely connected with him. Drmies removes biographical information from the page ("this 'Sentience Institute' has an article--why this biography is bloated with content about some poll, verified only with links to websites, is not clear", link)

Discussion moves to the talk page

Drmies is clearly quite unhappy with apparent promotional editing ("we are not here to produce link dumps for resume-style lists of publications", "The article itself is way too fluffy anyway; it used to be a lot worse, thanks in part to edits like this one by the creator, Utsill, and this one, by Reckston. A quick look at the references show a plethora of primary links and references to non-notable outfits", "The talk page, and the edit history, indicate that a number of editors have tried to bring some order to this madness, and I thank 78.26, Melcous, Kbog, and especially AlasdairEdits for their efforts".

Bodole files a complaint on Administrators' noticeboard/Incidents ("Disruptive editing by User:Drmies", link)

The complaint does not go well for Bodole. It's interesting reading, but generally the administrators think Drmies behavior is reasonable and Bodole's is not. They bring up that Bodole tried to remove the discussion of whether the page should contain "Anthis" from the talk page, that Bodole may be a (not allowed) alias of Utsil who created the page, and that "Boodole appears to be a [single-purpose account], perhaps one who is here to [right great wrongs]. Of their 228 edits, it appears that the vast majority of them concern Jacy Reese/Jacy Reese Anthis in some way". The consensus is to temporarily ban Bodole from editing the 'Jacy Reese Anthis' page.

Bodole responds by ragequitting ("I will now sign off of Wikipedia indefinitely").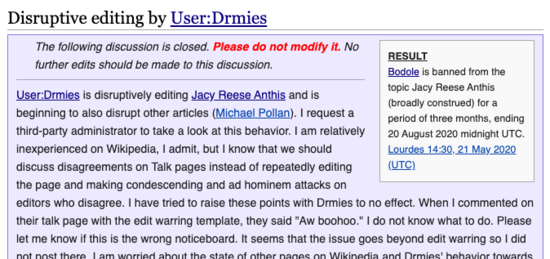 Wikipedia volunteers aren't really in a position to investigate conflicts of interest, but it does make me wonder who Bodole is and, if they're not connected with Jacy, why they would be so invested in this one article.
Comment via: facebook