I've been playing around with my
jammer
a lot lately, and I wanted to write up two ideas I tried: one that worked and one that didn't.
Idea 1: when you play a notey tune, it's common that you're constantly playing notes. The extreme of this is a bagpipe, where there's typically no way to have a rest and all you can do is choose what note will come out, but it's also common to play flute or whistle this way, pausing only for short breaths. So what if I made a mode on the jammer where I hold each note until the next note begins? This turns out to work really well: you can play a lot faster and with a lot less tension if all that matters is when your fingers go down and not when they come up again.
This has me thinking along similar lines to my instrument complexity and automation post. By automating the end of each note you're freed up to move your hands to the next note sooner, but the tradoff is you lose the option to play polyphonically or leave short gaps between notes. I've also found a similar tradeoff on whether to set the jammer to pay attention to how hard I press the keys (velocity). When playing brass synths I've had them configured so how hard I press the key determines how the note begins while how hard I'm blowing determines overall intensity and lets me modify the note as I sustain it. While this is good for slow expressive playing, if I try to play a notey melody I find that having to pay attention to how hard I'm hitting each key slows me down a lot. While the last time I was thinking about this I was mostly thinking about automation that lets you play multiple notes at once, automation that lets you play faster is also an option.
Idea 2: when making multitrack recordings where I play all the parts it's easy for me to layer multiple instruments. It would be nice to be able to to do this live to some extent: I don't need to be able to do everything, but at least being able to play two notes on different instruments. Two horns playing together can be a really good effect, and often the lines are simple enough that one person could do both. I've had two different ideas on how to handle this in software.
The first idea is that as I play notes the software should allocate them to instruments. Maybe the first note goes to a sax and the second note to a trombone. One problem with this is there's no way to play unison, and you often want lines to start and end with a unison note. Another problem is that in practice what comes out on what instrument is unpredictable: when you try to press two keys simultaneously either one could get its signal out first and so be allocated to the first instrument.
Another thing I tried was dividing up the keyboard into sections for each instrument. Each instrument would have three octaves instead of six, and pairs of octaves would be adjacent. You could either alternate all the way up, with octave N on instrument A always coming before octave N on instrument B: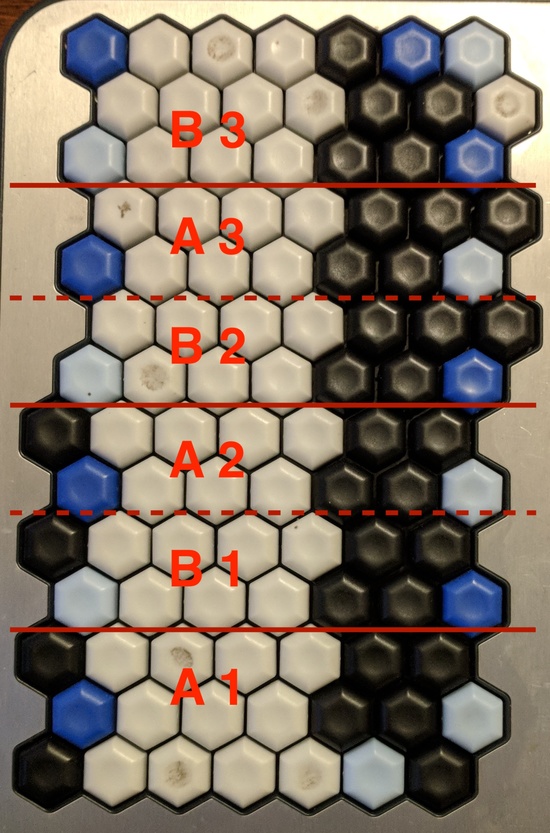 Or you could swap them so you have fewer instrument changes and neither A nor B is always higher: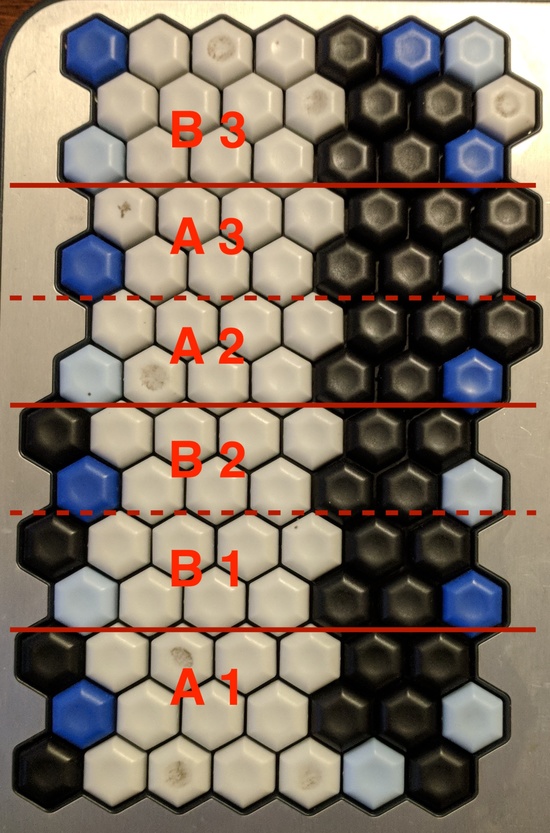 After playing with these for a little while I wasn't happy with either. I"m still not sure how I want to handle this.
Comment via: google plus, facebook