Several people have asked me lately how you go about playing a tour as a contra dance band, so I thought I'd write something up. I've helped book three tours with the
Free Raisins
, in
2012
,
2013
, and
2014
. These were all booked on a similar model: as many dances as possible in as short a time as possible. We each had day jobs, with relatively limited vacation, so our ideal tour was one dance a night for about a week.
There aren't actually that many weeknight dances, though: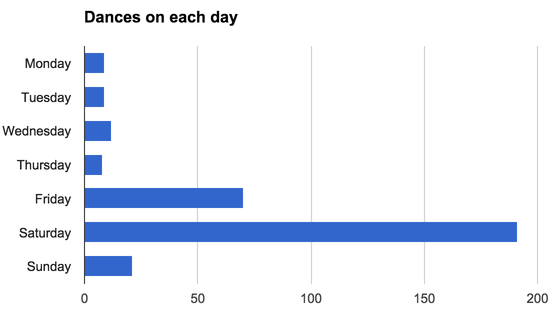 Luckily, what weeknight dances there are do cluster:
Monday: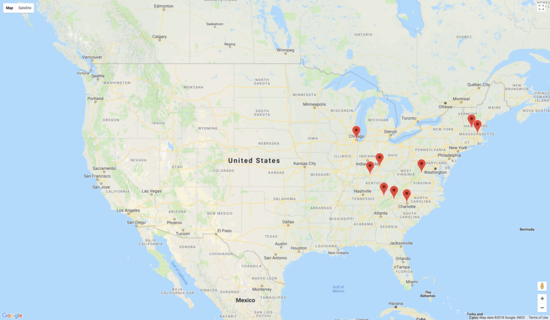 Tuesday: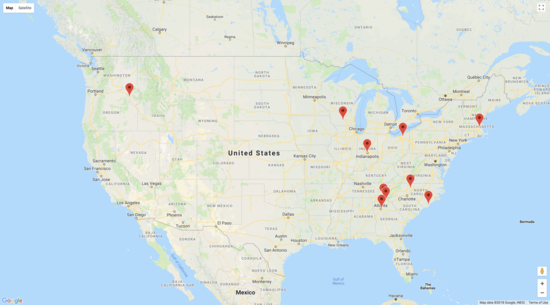 Wednesday: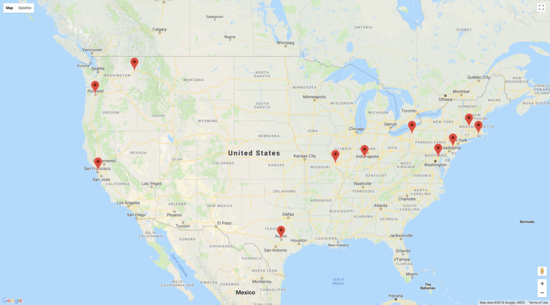 Thursday: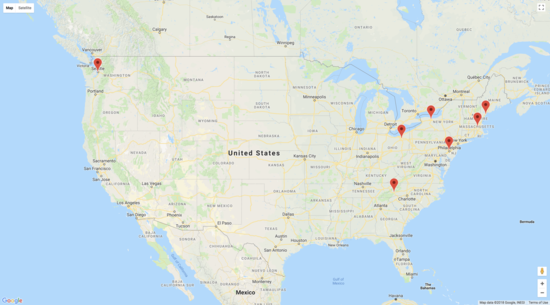 Friday: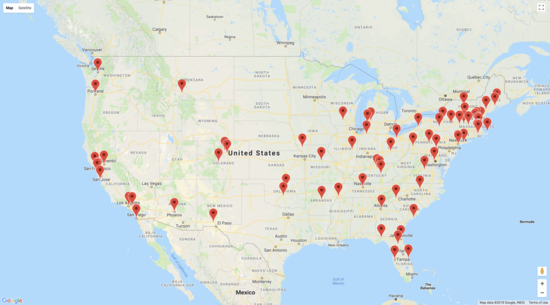 Saturday: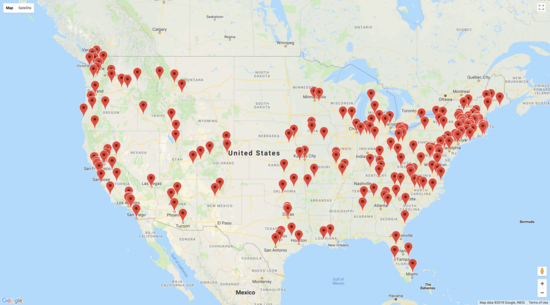 Sunday: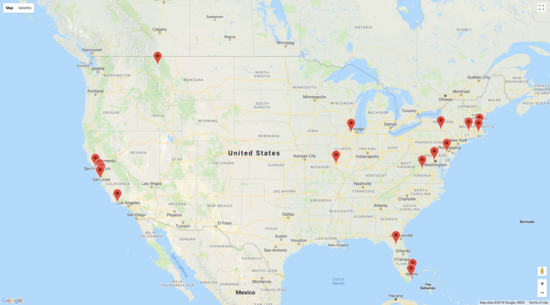 You can pick one of those areas to try to put together a tour. (Markers are clickable links to dance websites.)
Here's the basic process we went through in setting these up:
Pick a timeframe, about 14 months out. Less than a year and it's likely dances are already booked.

Look over possible dances by day (above) to make a list of the dances you'd like to play. Check the websites to make sure that this is a day they'll probably happen (try not to write to a "1st and 3rd Wednesdays" dance about a 2nd Wednesday; see if they take summers off if that's when you're booking for).

Look up organizer contact details on the websites and write to them to say you're putting together a tour. Ask about the specific date you're interested in.

If they say yes, ask if you can hold off on confirming until you've gotten the other dates confirmed. They should be fine with this, but don't leave them waiting too long.

If you need to make at least a certain amount per person for the tour to be possible, talk about finances up front, before confirming.

If you want to travel with a caller that can work well; most dances are fine with you bringing your own caller.
If you can't fill all the nights with regularly scheduled dances, a house concert or a special event dance can work well. This would probably need a local friend to organize, or there may be someone in the community there who organizes these.
Our tours generally averaged about 4hr of driving per day, and while less would have been nice this was fine. We had one day on one tour with 10hr of driving (Bloomington to Philly) which was too much, and I wouldn't do that again.
Other logistical details:
Closer to the time, maybe three months out, confirm with them again. This is a good time to ask about hospitality for the night after the dance. Most dances are used to putting up traveling bands, and there are typically a few empty nesters in the community with several spare rooms.

If you can travel all in the same vehicle that's so much better. Less driving, easier parking, easier coordination, less hassle overall. Our first two tours we squeezed into a sedan (with keyboard and sound system!); for our third one we travelled with a caller and rented a minivan.

We really liked bringing our own monitors and general stage setup. We'd handle mics, stands, stage cables, monitors, and stage mixing, and we'd give six xlrs to the hall, one for each channel. We used a splitter snake for this. The main reason this was nice is that some halls have bad sound equipment, or inexperienced sound people, and it's really hard to play your best when you can't hear yourself or each other. On the other hand, both Audrey and I run sound, and if only one (or zero) people in the band are sound-competent this probably wouldn't work well.

In 2014 I wrote some about the economics of touring, tracking what we spent and what we earned during our third tour.
Comment via: google plus, facebook