September 25th, 2017
kids
Handrails on stairs are generally about three feet up [1] and I don't think our youngest (1.5y) has that much vertical reach with her hands straight above her head. They're also generally too far around for little hands to get a good grip. So I put in child-sized banister: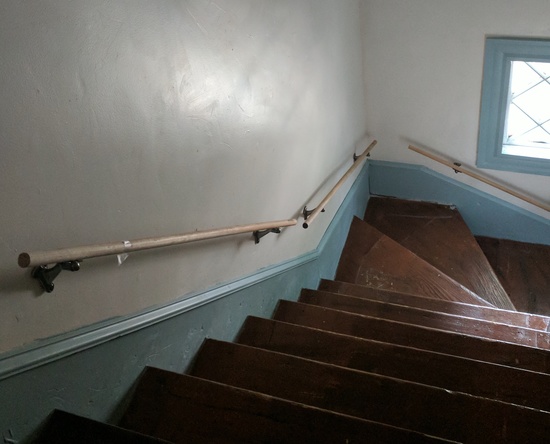 These are 3/4" dowels, 4ft long, attached to regular handrail brackets. Since the dowels are much thinner than a full-size banister I couldn't use the screws that came with the brackets. And since the short screws I had didn't have wide enough heads, I needed washers as well: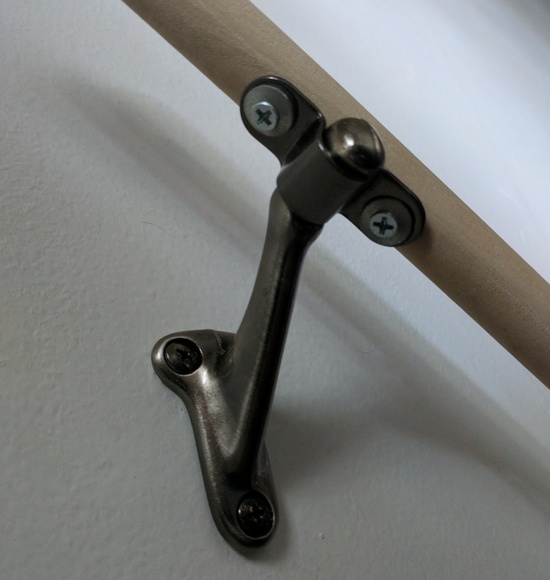 I attached them to the wall with 1/4" wall anchors, which I don't think would be enough for an adult rail, but for kids it seems good.
Low enough for toddlers is really very low. The right height for our kids (3.5y and 1.5y) is just 12".
(We let the 3.5y-old one go on the stairs alone, but the 1.5y-old still needs spotting.)

[1] Since the railing is linear but the stairs are, well, stepped, the distance isn't constant. So when talking about handrail height people measure from the "tread nosing," which means taking the minimum vertical distance.
Comment via: google plus, facebook