When I got to davis square yesterday, planning to hold the space for us to dance in, there was someone else setting up. Negotiations failed: we were both planning to start at 7pm and go for several hours. I'd always been anxious arriving at davis for one of these, because I'd been afraid of this: not being able to use the space. I get there early (1.5hr in this case), but for the first time that wasn't enough. We looked around, though, and decided on another area on the edge of the square, by the west red line entrance. Map: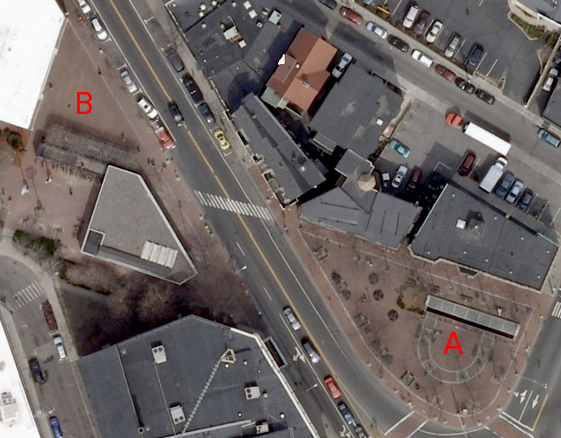 We're normally in A but last night we were in B
There are ways that B is both better and worse than A. On one hand the ground is flatter, there's more space, and it's a bit quieter. On the other it's less discoverable and we had fewer new people joining and fewer people watching. Last night it was the space that was available, but for future dances I'm not sure which one to use. Discoverability is key for this dance. What do you think?
Comment via: google plus, facebook