At this point it is likely that the coronavirus will spread widely, and the
majority
of people will get it. Still, it matters enormously whether we all get it at once, or over a longer period. This is a disease where a lot of people need hospitalization for respiratory problems, and if it spreads too quickly our medical facilities won't be able to keep up. By slowing the spread we lower the peak number of people who are sick at one time, making much better use of our medical capacity:
Looking back at the 1918 flu pandemic, efforts to reduce social contact were relatively successful at blunting the peak. Public health interventions and epidemic intensity during the 1918 influenza pandemic (Hatchett et. al. 2007) compares the responses of different cities, and gives the difference between the experiences of Philadelphia and St. Louis as an especially clear illustration: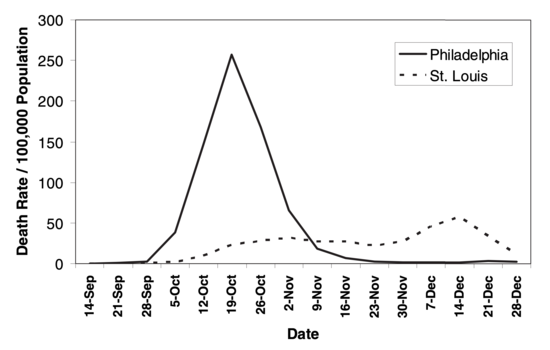 The coronavirus is spreading through multiple communities around the US, including Seattle, San Francisco, and New York. Because of a combination of how far behind we are on testing, how long the incubation period is, and how these cases can seem relatively unremarkable at first, it is likely to also be spreading in many other communities. This means we shouldn't wait until it's clear that it's spreading in our community to start taking steps to reduce the potential transmission rate.
Social dance puts people in close contact with a lot of other people. You're touching hands, and breathing close to each other's faces. Good hand washing can help, but it's probably not enough. The tango community has seen the coronavirus spreading at their events and I don't think tango is any more prone to this than others.
The Country Dance and Song Society is recommending that dances cancel if their local schools are cancelling, but I don't think this is enough. Because school cancellation often means that grandparents will be watching the children instead, older people are especially vulnerable to this disease, and children are not, even places with extensive community spread are often not cancelling school.
When there's snow or ice, where it would be dangerous for people to travel to a dance, we cancel. The coronavirus is a different kind of danger, a less visible one, but continuing to hold dances would not be responsible. Contra dances in Seattle, the Bay Area, Portland, Philadelphia, and Boston are cancelling their events, and I think this is the right decision.
I love dancing and I'm really sad to be advocating less of it, but dancing will still be there when this is over, and we want everyone to still be with us to enjoy it.