After building
basement shelving
at my dad's I wanted to start putting some things on the shelves. Some of those things were bottles of wine, and supposedly you're supposed to store them on their side to prevent the cork from drying out and letting air in (though
maybe not really?
) So I put together a small wine rack: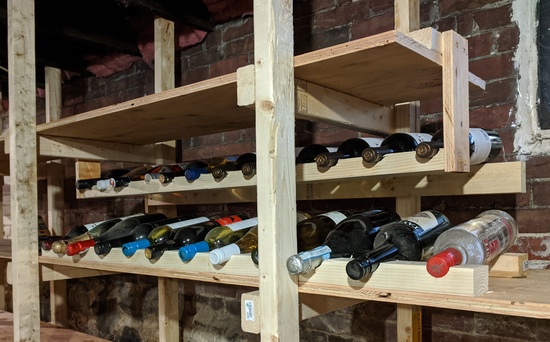 Each rack has two components: a rail with semicircular holes for the neck, and another flay rail for the backs. I used 2x3s left over from building the shelves. For the holes I clamped two 2x3s together and used a spade bit in a drill press to drill right where the two came together. I used a 1 1/4" bit and 4" hole spacing.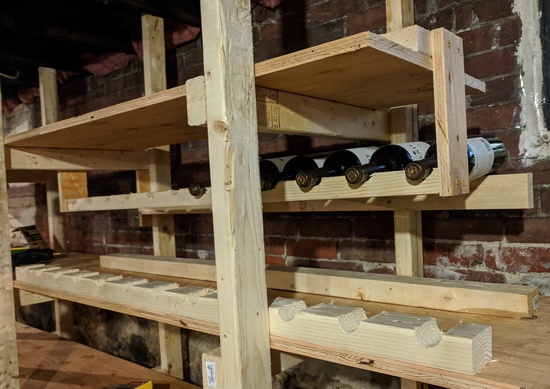 I left a 7" gap between the rails, though since some bottles are shaped differently than others I think 6" or 6 1/2" might have been better. I put the tops of the two rails even with each other, which means the bottles have a very slight downward slant. Looking at other DIY designs it's common to carve out a space for the back of the bottle as well, but after playing around with some holes and bottles they seemed very stable with just a single front hole.
The shelves have a ~14" gap, so there was room for two layers of bottles. I offset them, one layer lined up with the front of the shelf and one with the back, so it would be easier to read labels and figure out which one you want.
Comment via: facebook