Last night was our first full in-person Boston Secular Solstice since
2019
, and I was back in the "music director and host" role while Taymon did most of the organizing. Overall I feel like it went pretty well! People had a good time, minimal technical issues, lots of good feedback afterwards.
We had about 35 people, which was about right for the space during the event. If we had had a few more we still would have been able to seat them with folding chairs in a place where they couldn't see very well. This was a bit too many people, though, for moving around easily during intermission. We had about 28 chairs plus room for about 12 on couches, and they weren't all full. Here's the layout I used: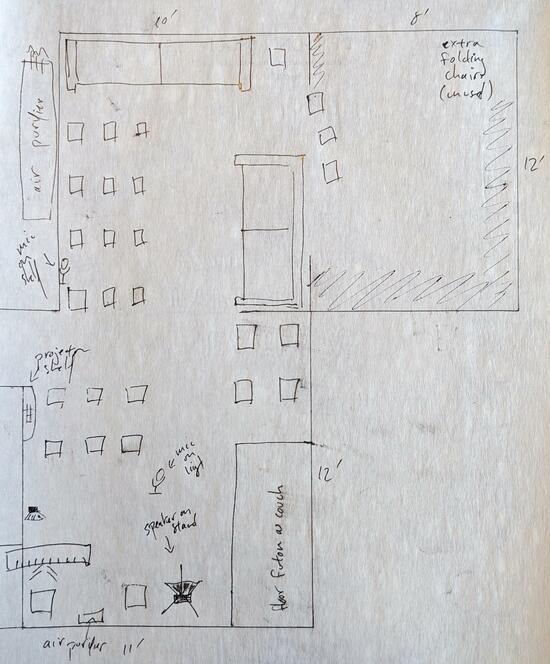 Pretty similar layout to last time, but with only one floor futon and slightly tighter spacing in the back rows.
We had the windows partway open and an air purifier running at each end of the room, but in retrospect I wish I had asked some of the attendees if they could bring along additional purifiers. We didn't require masks, but I put up a sign saying: something like:
Visiting elderly relatives this season? Have events you'd be really sad to miss? Consider a mask ↓
The sign was above a box of n95s, and I think I saw several people in the kind of mask I put out.
I set up a PA speaker on a stand just to the left of the projection, and amplified everything: keyboard, electronic drums, overlays, a mic on a stand for me at the keyboard, and a mic for the reader or lead singer. I was worried that the big speaker on the stand would feel to obtrusive, but with it up by the ceiling I think it was fine. Getting it high and angled down mostly avoided the problem where it's too loud for people at the front and too quiet for people at the back. In past years we haven't used amplification, but with the sound of air purifiers and most speakers masked we really needed it.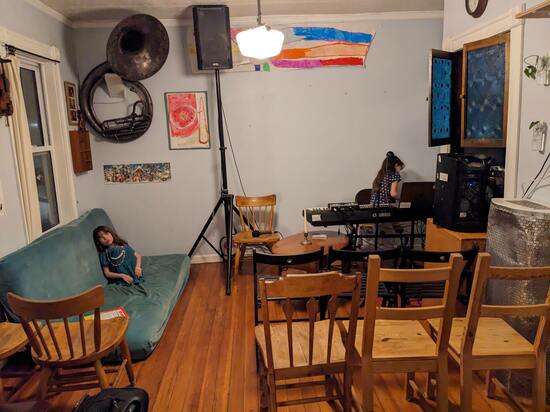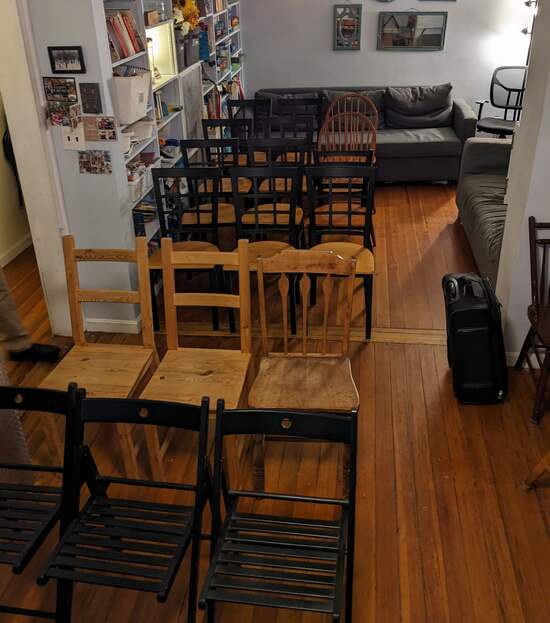 Alex led half the songs and I led the other half. Alex was great, and I'm very happy he stepped up, but in future years I'd love to get a wider range of song leaders. I'd also prefer not to lead any myself, so I can focus on playing. If you're interested in helping lead songs, let me know!
We didn't have separate person adjusting levels and running sound during the event, but Miranda helpfully accepted being volunteered for the role. I had the mixer where I could adjust things while playing, and she signaled to me what was needed.
I also made a multi-track recording, including two room mics. I tried to get the room mics high up, so they wouldn't just be recording the closest few singers, and and oriented them away from the speakers, so they'd mostly not pick them up.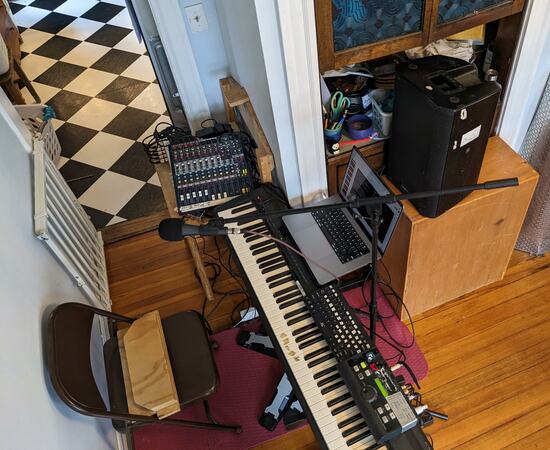 All the music was live. The accompaniment was mostly me on piano, but I also played some drums with my feet and used a few keyboard overlays. There was also one set (Bitter Wind Blown) where I used a breath controller to play something more windlike.
Lily was very concerned about fire safety for the event, but instead of the candles she was mostly worried about the extension cords for the PA system. Teaching kids relative risk, as opposed to working through a checklist, is hard. It doesn't help that the fire safety booklet she got from school wants us to unplug our appliances when we're not using them.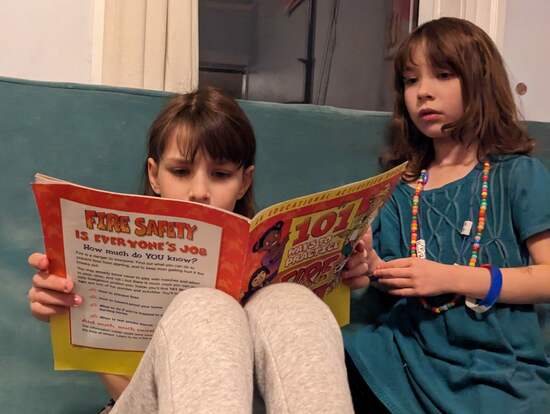 I started setting up the space in the morning, and it was nice to be able to take a very relaxed approach about it where I just slowly moved things around all day with a lot of breaks to do other things. I think if I had to I could get the space set up in about 2 hours with no PA, and then I probably spent another hour setting up musical and recording equipment. One of our housemates is only here part-time and is currently away. It was super helpful to be able to use their room for storing all the stuff I moved out of the common area to make space.
As in past years I put a copy of the slides online at a short URL with a few signs around the room so that people who had seats with a poor view of the projection screen could still follow along the lyrics. This is also insurance against the projector breaking, that we didn't have any issues with it this year.
The candles were again a lot of fun for the kids (now plural!) to prepare.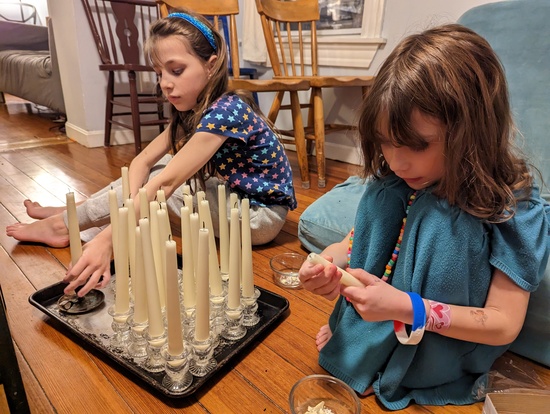 I have mixed feelings on how we did candles this year. We lit them during Brighter than Today, with the match struck on "spark of light and flame" as Ray suggested, and the spreading of candlelight during the song felt really good. On the other hand, we also turned the lights up during the song, which meant that we weren't spending very much time with everything lit only by candlelight. Talking to people afterwards and thinking back about what we did in 2019, I think what I'd want to do next time is start the second half by candlelight with the lights off. As things got emotionally darker we'd extinguish the candles, and then do the same relighting as this year. I think this gets all three of the things that I want: a substantial portion of the event by candlelight, light spreading during "Brighter than Today", and a full return to brightness by the end of that song.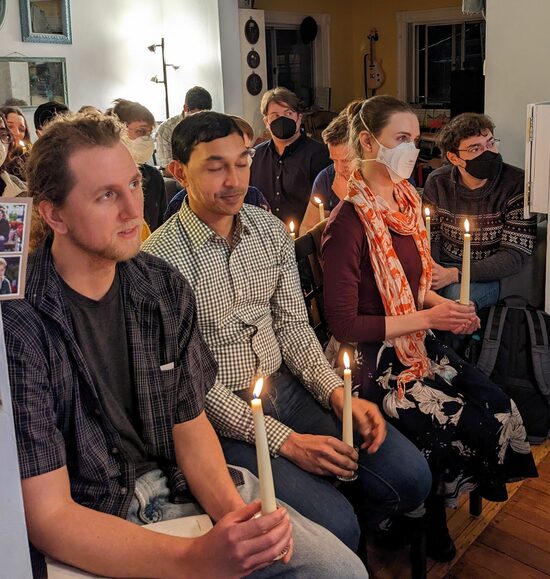 Julia had the kids upstairs, though she came down some with Nora to watch and sing when the older ones were engrossed in video. This is also the first time other parents brought any of their kids, and we had a very cheerful and quiet four month old up front.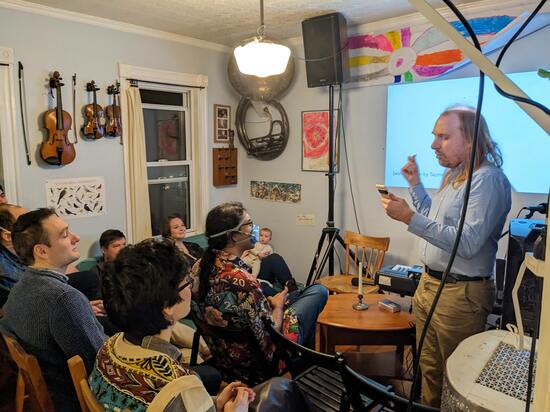 The music was:
Intermission.
Slides, with lyrics: online.
I'm interested in feedback about how it went, including critical stuff!