While I used to play a lot of board games, this is something I've had less time for since having kids. Last week my extended family got together for a vacation, however, which meant a lot more time for gaming! Thinking back, here's what I played over the week, in roughly descending order of time spent:
This was a good range of games, ranging from ones for people who are really into complex German-style games (Brass, Power Grid, Wingspan, etc) to more varied options (Boggle, Set, Spoons, Werewolf).
Games I saw others play included Scrabble, Quacks of Quedlinburg, and Azul. Scrabble isn't for me (not good for thinking on other people's turns and so too much waiting) and I haven't learned the other two yet.
Games have been a big part of vacations for a long time: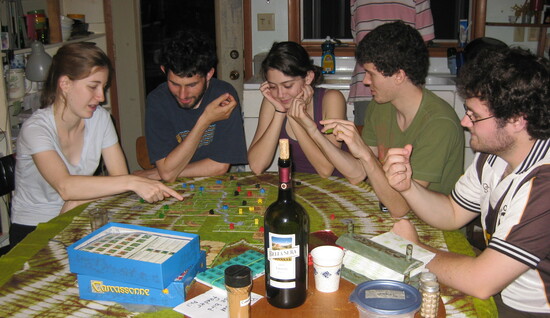 Summer at my grandparents' in Tennessee, 2009
Looking back five years, the biggest change was no Dominion. Looking ten, no Carcassone. Fifteen, no Catan. I don't think anyone brought copies of any of them; they're a bit played out for us. (Probably least sick of Carcassone.)
I also realized something about how people's gaming experiences differ. I've always seen learning new games as an unavoidable problem: it's not especially fun, but it's worth it occasionally as a way to pull new games into rotation and get some variety. This turned out to be the most common view among my relatives, but two of them are actually pretty excited about learning new games, seeing it as something fun in itself. This time I agreed to learn one new game, which was Wingspan (last time was Brass).