The current standard for transporting infants by car is a rear-facing child safety seat. If you don't have your own car, though, and occasionally get rides from other people, it's not a good solution. It's heavy, takes a while to install, and takes up its own seat in the car. Carrying your infant on your lap in your arms is a bad idea because in a crash the apparent weight of your baby goes up by ~10x. Could we fix this problem while still getting the benefits of having the kid ride on your lap?
Let's say we have an adult traveling in the back seat of a car with shoulder belts. This attaches the adult to the seat. They could have their child against their front in a soft carrier. Something like: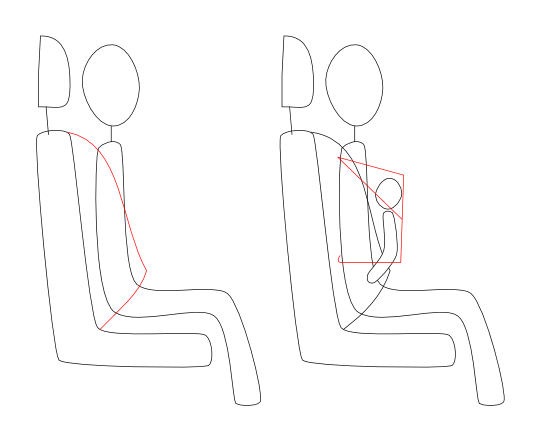 This seems like it should be safer for the baby than a seatbelt is for an adult, because the infant would have much better support, especially of the head. Does anyone make something like this? Would it be as safe as current designs? Are safety seat regulations written to allow seats that demonstrate a given level of protection or do they require independent solid-bodied seats?
Update 2014-04-07: Now that we have an infant, another advantage of a carrier like this could be that the kid would like it more. Lily is quite content riding the bus in her front carrier and falls right asleep, while she hates her car seat and tends to cry the whole ride.
Comment via: google plus, facebook