September 23rd, 2021
kids
In the discussion on
kids roaming
a few weeks ago, Cullyn
suggested
walkie-talkies as a way to keep in touch with kids who are out of sight. This wasn't something I had thought about at all: my only experience had been with short-range children's models in the early '90s, but now you can get rechargeable ones that will reach about 1/4mi through houses for
~$13/each
shipped.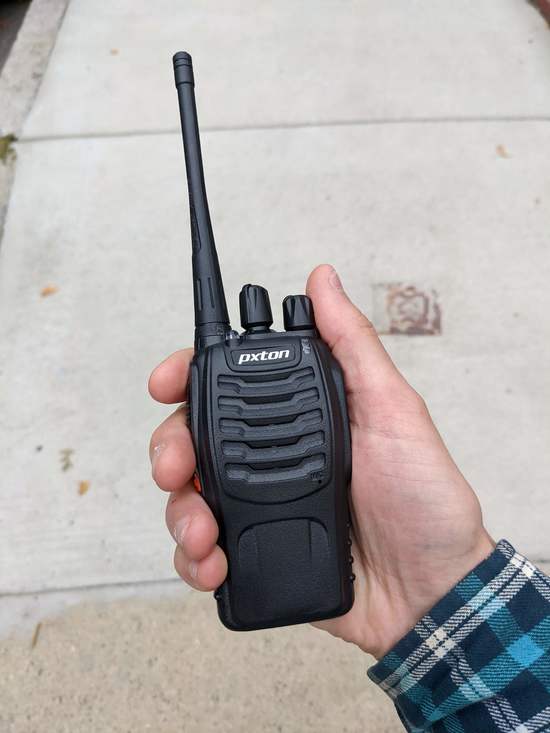 I got a set of four a little over a week ago, and we've been trying them out:
We started with a lot of playing with them in situations where they're not really needed, with the kids running ahead or something.

Before using them each time, we test them to make sure we have them set up right.

Other kids want to play with the walkie-talkies, but will be rough and change the settings. We ended up needing to make a rule that they weren't for sharing.

We've practiced setting the channel and volume several times, in case they do get messed up.

While I can clip mine onto my belt, or put it in my pocket, the kids rarely have appropriate clothes for that. Julia got a small fanny pack for Lily, and tweaked it to fit better.

Initially, we're only using them for short times and distances, at a range where I would be OK just walking over and checking on them every few minutes.

Lily (7y) is much better at using them than Anna (5y). I don't think I would let Anna go very far with one unless it was to meet Lily.

These particular ones speak their settings out loud as you change them, which the kids really like. On the other hand, the knobs are quite hard to read, so Julia painted a white stripe on each so you can see their setting at a glance.
We tested the range, and in our flat neighborhood of densely packed three-story wooden buildings it was clear at 1,200ft, down to almost unusably fuzzy at 1,500ft. This is farther than we are OK with the kids going, and farther than their friends' houses, so I don't expect it to be an issue for a while.
Before deciding to get these, we had also considered a watch with cellphone + GPS like the Gizmo. That seems like a nice idea, and I liked the idea of GPS, but it's more fragile, more expensive up front, and has ongoing costs. Since the walkie-talkie was so much cheaper, we decided to give that a try and see how we liked it. So far so good!