Back before
Math With Bad Drawings
was an internet sensation, its author was a simple high school student sifting the humor of everyday situations for choice phrases. In those pre-twitter days he would mail his selections weekly to a list of classmates who would collaboratively identify the very best, the "quote of the week".
In his own words:
That marked the beginning of the golden age for Quote of the Week, which has been a lot like the golden age of Islam, only with more pork. QOTW, an abbreviation first used by Alex, quickly skyrocketed in popularity. New members were joining every week. QOTW made the switch from normal plurality voting to the vastly superior Instant Runoff Voting system. Teachers, fifth graders, and family members alike participated in the process. With so many quotes pouring in every week from so many sources, I was forced to delegate the excess to a secondary "Honorable Mentions" email that supplemented the main one. Members told their friends about QOTW, and all of a sudden people I had never heard of were joining. …
While you might have expected something like this to die out when the primary instigator graduated, instead a series of quoters have taken on the responsibility, such that nearly twelve years later I still get emails: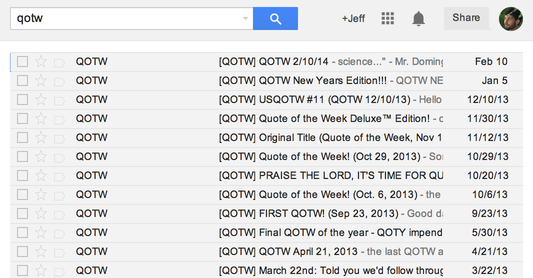 (The email list is hosted on a server run by an alum in the class below mine. I like to imagine a new quoter being inducted asking "where did this system come from?" or "why is this server here?" and being told that the answer is beyond the reach of history. Except probably no one actually asks; with infrastructure you just assume it has always been there and always will be.)
Activity has dropped off somewhat, including full breaks for the summers, but it's remarkably stable for something passed on between the short generations of high school students: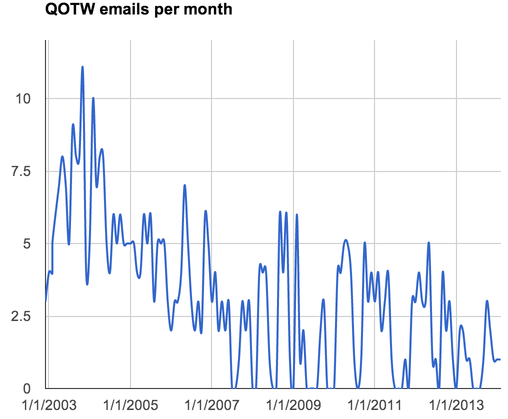 I'll leave you here with my favorite quotee, Paul the Subway Stop Announcer. While the subway now has automated announcements there was a time when the driver had to actually say each stop as you arrived. Paul was the best thing, perhaps the only good thing, about riding the Green line to school:
For those of you leaving us here at North Station, let me tell you: you have rocked my world. I love you, not just as a fellow voyager on spaceship earth but as a beautiful human being. Go forth and live!
Folks, when the train is packed full, as it is now, please remember that the hand in your back pocket may not be your own.
The MBTA, We give you choices: left side, right side...
If you must be forced to leave us here at Park Street, please remember to take with you all your packages, bags, and blah blah blah blah bla.
At Park Street, both doors will be opening due to the end of Reconstruction. Yehaa!
Folks, Please clear the doors or I shall be forced to speak to you in a demeaning manner.
To any of you who might be trying to make a tight connection at North Station, Godspeed!
Comment via: google plus, facebook