The kids have gotten very excited about loft beds. I like the idea as well: they make good use of space. Lily's room, in particular is quite small, 7ft in the shortest dimension. A bed is just a bit shorter than that, so it's a good candidate for a wall-to-wall loft: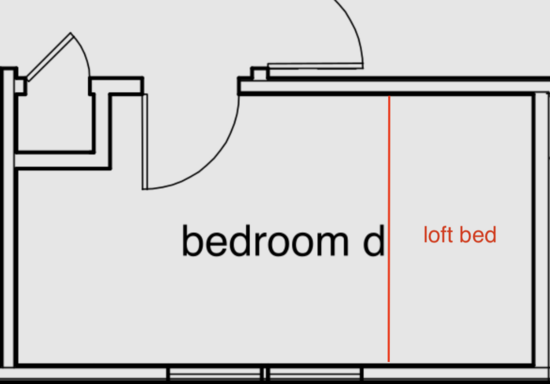 Here it is in the room, with a ladder running up the wall: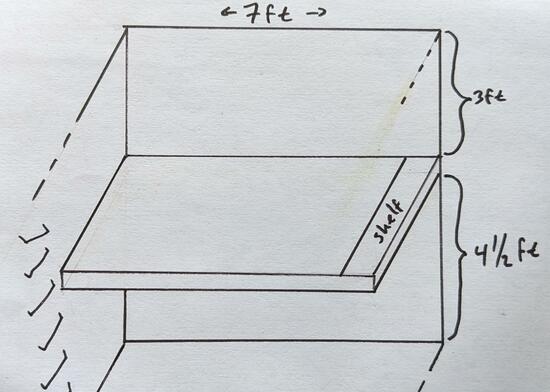 It would be good to have a bed where even an adult can sit upright. We measured me, and I need just under 36", though I also would sink into a mattress a bit and rarely sit exactly upright. We're currently thinking of doing 36" from the top of the mattress to the ceiling..
Since this is a wall-to-wall design, a simple way to do it is to attach a 2x4 through the drywall into the studs, rest 3/4" plywood on top, and put the mattress on that: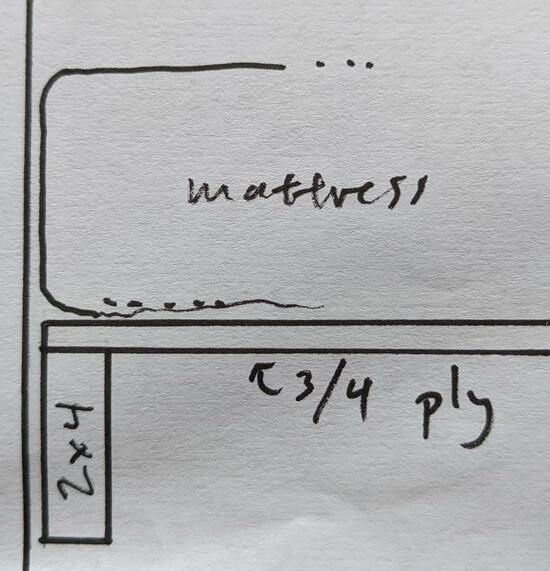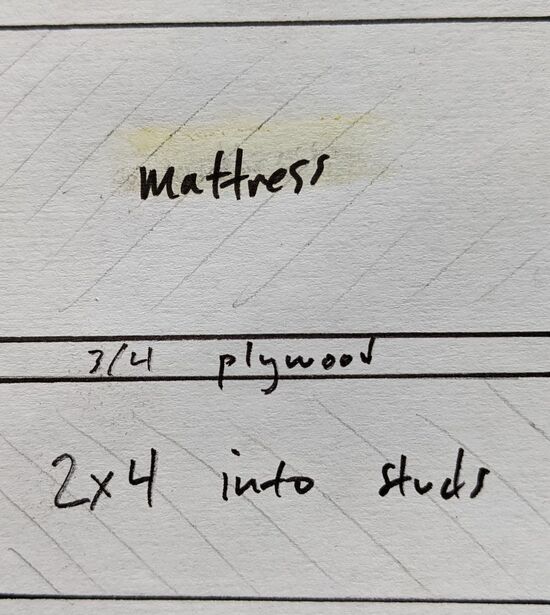 In an area with higher humidity I think you'd want to use bed slats or drill holes in the plywood to help the mattress dissipate moisture, but I don't think this is needed in New England (Julia and I have our mattress on the floor).
This works for the three sides supported by walls, but the fourth side runs across the room. Something similar to the other three sides would work, except you lose headroom when going under the bed, which is exacerbated by needing a thicker beam for the longer run. Instead, I'm planning on using a 2x8 that's level with the mattress, and 6ft of angle iron to support the plywood: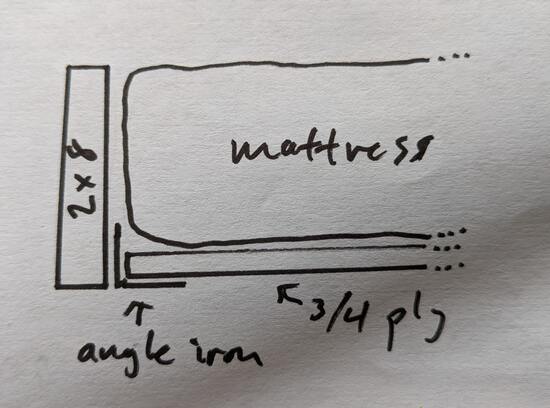 The 2x8 can be supported by the wall-mounted 2x4s, but it also needs something to keep it from rotating. Here's how I'm thinking of using a few more 2x4 sections to support it: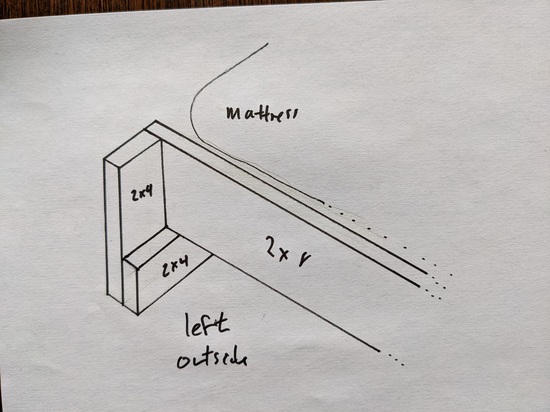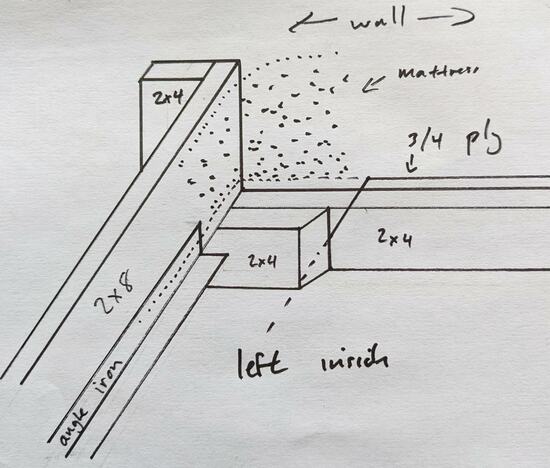 I'm also planning to make a guard so she doesn't fall out, and attach it to the 2x8. Probably three 2x4s: two vertical and one horizontal.
Materials:
| Price | Material |
| --- | --- |
| $30 | 6ft 1.5" 14-ga Angle Iron |
| $12 | 8ft 2x8 |
| $60 | 4x8 3/4 plywood cut to 38"x84" |
| $12 | 3x 8ft 2x4s (7ft, 38.5" x2, 10.75" x2, 8" x2, 6ft x1, 18" x 2) |
| ~$12 | Construction screws, 1.5" (angle iron), 3" (attaching 2xs) and 3.5" (attaching to studs). |
| ~$30 | Paint and primer (Soft Turquoise) |
| $160 | Total |
It will actually be a bit cheaper because I already have some of the things that I bought in bulk (fasteners, sandpaper, primer).
I normally wouldn't design quite so much in advance, and plan to figure things out as it went up, but Lily wants it painted. It will be easier to sand, prime, and paint everything in advance instead of fully clearing that side of the room, though I'll probably need to do a bit of touching up after.
This seems like it should be pretty good, though it's hard to say for sure not having tried building it yet.