Occasionally people write to me because they're looking for a contra dance band to play at their wedding. Several times, however, they've been surprised that we
have a piano
in our band. They say they've never danced to a band with a piano, or that they don't want any non-traditional instrumentation. The first time I heard this, I was really surprised: to me the most traditional band is a piano and a fiddle. To check that I'm not halucinating, I decided to look back at old dance pictures:
We have Randy Miller's 1977 woodcut from p15 of his New England Fiddler's Repertoire:

In 1952 we have the Myron Colby Orchestra:

In 1949 we have dancers in
Everett PA
:

Same place, possibly a little later:

On the cover of Beth Tolman and Ralph Page's 1937 Country Dance Book is Fran Tolman' woodcut [1]:

What do these all have? Fiddle and piano! Three also have drum kits and then there's a banjo, trumpet, and sax, but where do people get the idea that pianos don't belong?
The only old dance pictures I could find that didn't have a piano are from c1900 Illinois, showing dancing in a barn to fiddle and banjo and in someone's house to a reed organ:

Update 2015-11-17: Here are two other old pictures of dancing, one to fiddles and another to fiddle and (I think) clarinet: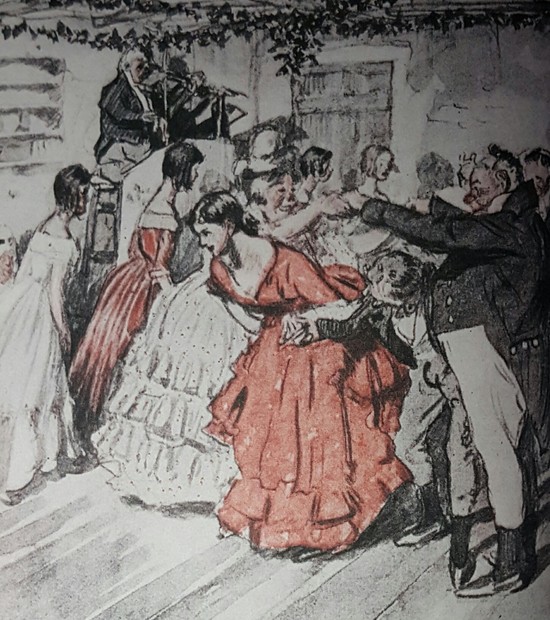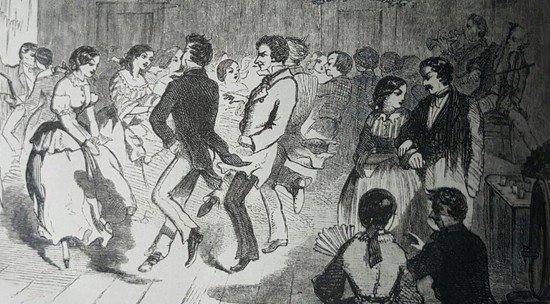 [1] This is also on the cover of the NEFR, and my image here is from a scan of that. Looking at the image on an ebay listing it appears the original printed color was blue.
Comment via: google plus, facebook