Phones cost more than you think they do. It's somewhat common knowledge that when you buy a phone with a contract you're spreading the cost of the phone out over several years, but the phone companies carefully structure their plans so that it's not obvious how much you overpay when you buy a phone this way.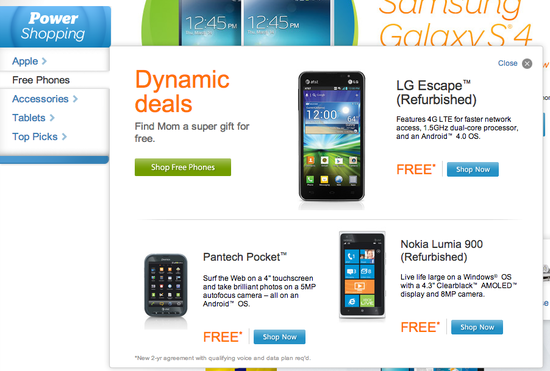 Let's say you decide you want an iPhone. You go to ATT's website, look through the options, and you find the $200 they want for a new 16GB iPhone 5 kind of steep. So you decide to go for the 8GB refurbished iPhone 4, which is free. Going through various pricing options you end up with:
Phone, $0
Activation fee, $36
Voice (900min), $60/month
Data (3GB), $30/month
Texting (unlimited), $20/month
This is with a two year contract. Over the course of the contract you'll pay $2676, $36 initially and $110 monthly.
(After looking at these totals the $200 extra for the iPhone 5 doesn't sound like that much anymore!)
Instead, let's say you go buy a used phone. Craigslist is good for this because you can see the phone in person, try it out, make sure it works. (Don't use ebay for this; phones are heavily scammed.) Looking at, some, ads, you could probably get one for around $220. If you take this phone to ATT and ask for service, they'll charge you the same $110/month they would if you just took their "free" phone. But if you go to a "MVNO" you can get service much more cheaply. These companies resell access to the major networks, but they often have to be quiet about which network they're selling for. For example, Straight Talk has agreements with ATT and T-Mobile, and they have an "unlimited everything" plan for $45/month. They charge $15 for the SIM, so if you go this route over two years you pay $1315, $235 initially and $45 month.
What comes out of this is that the monthly cost matters much more than the up front cost. When you see "$X today and $Y/month" it isn't immediately obvious that you'd do better with "$X+$200 today and "$Y-$10/month". While "free" phones look like a good deal, paying for your own phone and using it with someone that charges less per month can cost about half as much.
(I'm using the iPhone as an example here because you can get them both on Craigslist and from ATT, but if I were buying a phone now I'd probably get a new nexus 4 and T-Mobile's "unlimited text+data, 100 minutes voice" $30 plan. Or maybe look for a cheap barely-used Razr M on Craigslist and make it work on T-Mobile.)
Comment via: google plus, facebook