When they were building the boston and lowell railroad in the early 1830s, railroads were very new. In choosing the route to lowell they made the decision to bypass medford square and instead go through the much less populated west medford, primarily because people didn't like how smoky, noisy, and loud railroads were and wanted to keep them away from people. The boston and maine railroad's boston to haverhill line, built a decade later, went through the middle of malden center, partly because by that time people had seen that having a railroad nearby could benefit them.
The a branch railroad to connect medford center to boston and elsewhere via the haverhill line started as soon as the haverhill line was complete. It started as a separate company, but merged into the boston and maine almost immideately (started 1845, boston and maine advertising service on it 1847-03-01).
By 1917, passenger service on the railroad was suffering, primarily because of competition from streetcars [1]. The medford end of the branch last saw significant traffic during the 1956-1963 construction of interstate 93 (the northern expressway), hauling large amounts of dirt to build up the embankment. [2] No provision was made for the branch to cross 93, and so at that point it must have been cut back, probably to park street station. [3] I've seen some maps that show rails to spring st, so it was probably cut back to there before being cut back to the present end at amaranth ave.
The route looks like:

On saturday, rick and I walked along the railbed, from pembroke st to park st and then from amaranth st to the fellsway. It was neat to see how the right of way, inactive for around 50 years, was still open, just back yards, pools, and gardens. Rick wanted to look at a bridge, where park st crossed the railroad, but there was just a small rise in the road as it crossed the railbed. Rick thinks they must have filled in the bridge recently; I couldn't tell.
Possible orange line branch?
Update 2012-03-27: Joe Mondello writes:

I lived on Park Street in Medford (just down the street from the Park Street Station), and have been collecting several old postcards and photographs regarding this railroad. ... It's enjoyable to see that someone is interested in the history of this small section of railroad. I grew up when the tracks existed when Friend Lumber existed (I used to take the tracks when I went to Zayre's (a blast from the past!)). ... The Park Street Station was a club called "The Redskins" (basically a bar) in the 1980's, and converted to an elderly Health Care Facility now.

He also sent in some pictures and maps:
[1] Medford Historical Society Papers, Volume 20, 1917
[3] There is a wonderful old railroad station on washington st between park st and dudley st: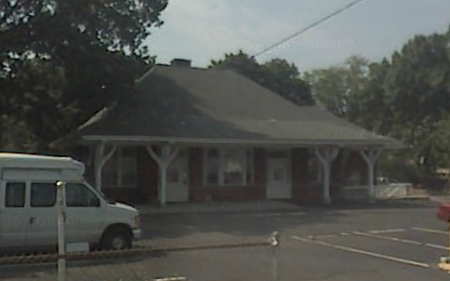 Looking at an aerial view, you can see the mostly empty right of way running in front of it:

There was another station (in addition to medford square), glenwood station, near spring st, but I didn't see any sign of it.
Comment via: google plus, facebook