February 7th, 2018
house  [html]
I've
been thinking
about how sound moves through floors and ceilings, and trying to figure out what to do about a bedroom in our house that gets more noise than we'd like. I wanted a way to compare different floors/ceilings in order to tell how well they were passing sound. Here's what I came up with:
In the room below, I set up my laptop (2017 MacBook Pro 15") with Audacity recording. I made sure ambient noise reduction was turned off, and I set the mic volume to 10%. I put the laptop on a pillow so it only would record vibrations through the air.
In the room above, I dropped a hammer onto a mat from a variety of heights. I used a "16oz" hammer, which weighed 23.9oz including the handle: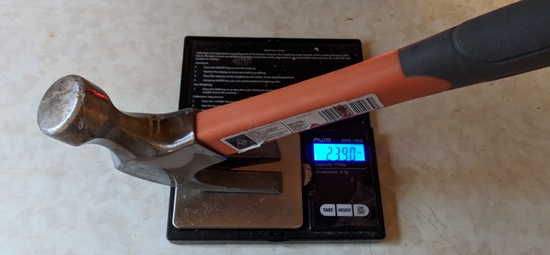 I dropped it head first onto a 0.5" EVA foam mat.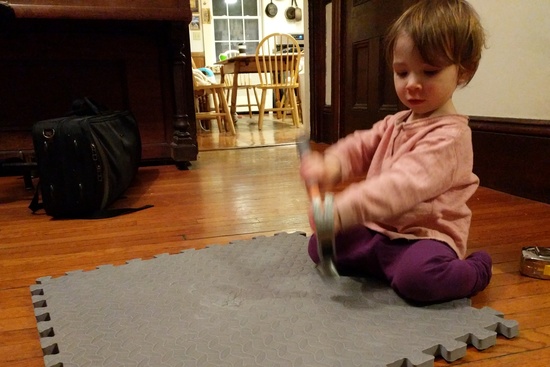 I dropped three times at each height, and after the 6", 12", 24", and 48" drops hit the mat hard three times so I could tell where I was when looking back at the recording.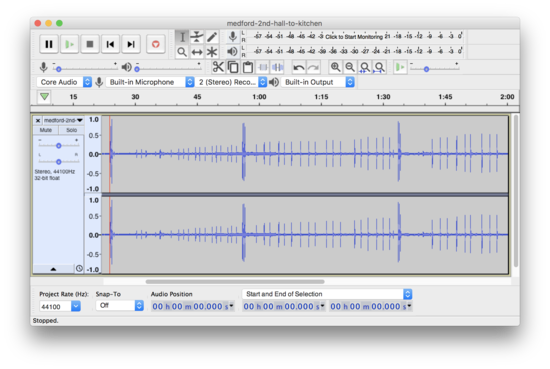 I took samples from a range of places in our house (Somerville) and my dad's house (Medford), three story wood frame houses from 1920 and 1895 respectively.
The recordings are:
I went back over the recordings in Audacity and measured the heights of the peaks using the Effect > Amplify tool (which I made a shortcut for) which, as a side-effect, tells you how loud the sample currently is.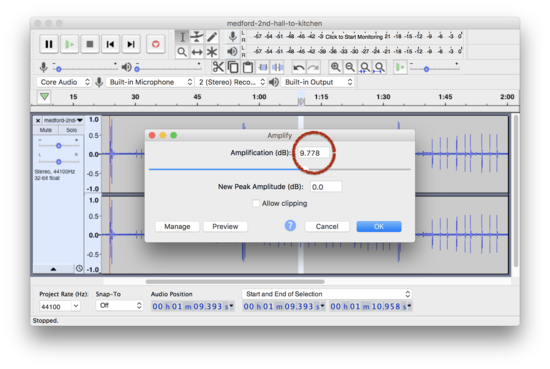 The raw data is here, in a shared spreadsheet. Blank cells at the low end are ones I couldn't distinguish from background noise, blank cells at the high end are ones where it was too loud for the mic (clipping) for any one of the three samples, and blank cells in the middle (0.5%) were times I dropped the hammer wrong and lost a measurement.
This was a consistent enough process that I think I would get the same results if I repeated it, and I definitely think it's good enough to measure relative rates of sound transmission. It's not calibrated to any external scale, though.
Overall, rooms varied widely in how much sound was transferred: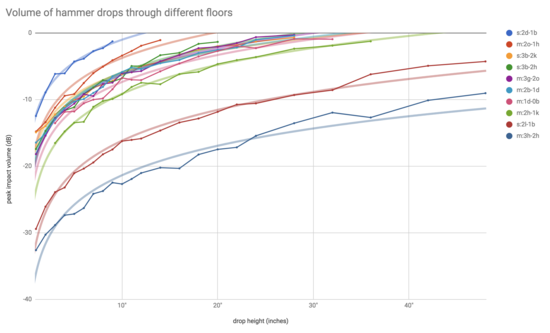 As you'd expect from a measurement with a log scale, a log trendline fits pretty well: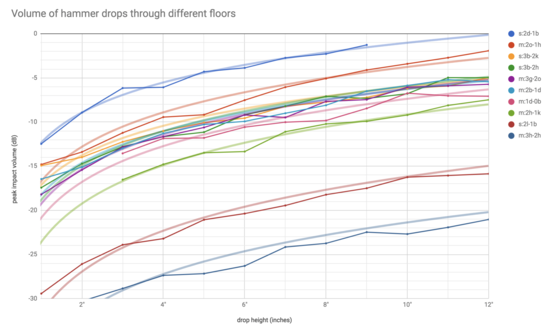 Reading the trendlines off the graph at 6", from worst to best I see:
Somerville: dining room to 1st floor bedroom (s:2d-1b): -3dB
Medford: office to front hall (m:2o-1h): -6dB
Somerville: Anna's bedroom to 2nd floor kitchen (s:3b-2k): -8dB
Somerville: Jeff and Julia's bedroom to 2nd floor hall (s:3b-2h): -9dB
Medford: guest room to office (m:3g-2o): -9dB
Medford: Rick's bedroom to dining room (m:2b-1d): -9dB
Medford: dining room to basement (m:1d-0b): -10dB
Medford: second floor hallway to kitchen (m:2h-1k): -12dB
Somerville: living room to 1st floor bedroom (s:2l-1b): -19dB
Medford: 3rd floor hallway to 2nd floor hallway (m:3h-2h): -24dB
Update 2018-02-08: I took some more measurements, this time all at 6" since it seems like that's enough to characterize it. I wanted to get a better sense of how transmission worked into the first floor living room and bedroom from the second floor living room and kitchen. I measured: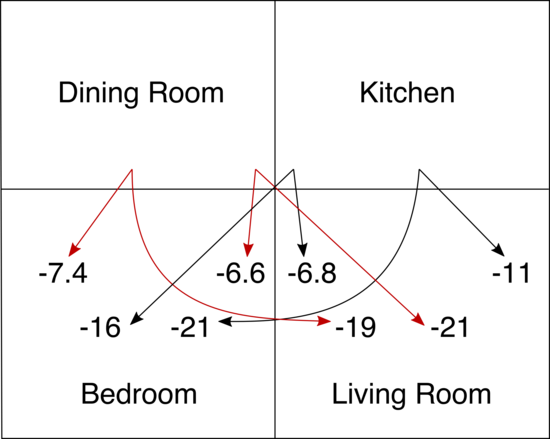 Thoughts:
The bedroom in question has the most sound transfer (s:2d-1b) of all the measurements I took.

The s:2l-1b measurement is the only one that isn't to a room directly below. It's Like s:2d-1b, but from one room over (our living room instead of our dining room. It looks like moving over a room saves 16dB.

The Somerville house has had a lot of the original plaster replaced with drywall; the Medford house is still all plaster. I think this is the main reason the Medford house tends to do a little better.

Making the bedroom ceiling to be more like a typical ceiling (basically, putting on another layer of drywall) would make things better by about 6dB.

It's hard to say how much better various forms of drop ceilings would do. Do I know anyone who has similar parts of their house with and without a drop ceiling that I could compare? Maybe a ceiling put in to hide water damage?
Comment via: google plus, facebook