Julia and I have an 8br two-family house in Somerville which we
share
with friends. The couple that has been living in the two-bedroom unit on the first floor is buying a house and moving out, and we're looking for new tenants. It's available for 2023-11-01, but we could potentially hold it longer for the right people. Would you be interested in being our downstairs neighbors?
Housemate constellation:
Upstairs apartment:

Our family, which is Jeff, Julia, Lily (9y), Anna (7y), Nora (2y).

Weiwei, a compiler engineer, fiddler, and dancer.

A spare room that is empty more often than not but has a series of people coming through.

Across the street: Ruthie, Jo (2mo)

Downstairs apartment: you?
House culture:
We eat dinner together about 5 nights a week, with each adult cooking once a week. We usually eat in the upstairs unit, with about one night a week at Ruthie's house. We'd be happy to have downstairs neighbors who wanted to join the dinner rotation.

In the dinner rotation, one person can't eat tomatoes or spicy things, another is allergic to sesame, and the rest are omnivores.

The current group has some involvement with effective altruism and folk dancing, so if you're interested in at least one of those topics you'll likely enjoy dinner conversation more! Other common topics: being a manager in a startup, silly puns, stuff the kids are up to.

We're all vaccinated and fairly covid-chill at this point. We run air purifiers at large events, but otherwise aren't doing anything covid-specific.

Someone asked if we expected housemates to do childcare: no, we don't. One of our housemates did some (paid!) childcare for a while; if that's something you're interested in we could talk?

We host events 1-2 times a month inside or in the backyard (EA dinners, music/singing parties.)

Kids make noise and Jeff plays musical instruments, so it is not a quiet household. We do keep quiet hours (no music playing, kids asleep) from 9:30 to 7am and try to stay a bit quiet in the morning (no music playing before 9:30).

We're happy to put you in touch with our current housemates if you'd like their take.
The space:
It's two bedrooms, a kitchen, a living room, and a bathroom. No strong feelings on how many people are splitting it.

The kitchen has an electric range and a dishwasher. The kitchen floor is in bad shape; I'm planning to replace it after the current tenants move out. In general I'm not sure how much work to put into making the apartment nicer: there's a bunch that would be "worth it" in terms of how much market rent would go up, all the way up to a full gut, but if the people we want to rent to don't actually value that then it's not actually a good idea?

There is a shared entryway, where the current tenants keep shoes and a bike.

The front bedroom has very good ceiling sound treatment, so despite being right under the main 2nd floor living area it doesn't get much upstairs noise. The living room is under our kitchen and has more noise. The back bedroom and kitchen are under bedrooms and are also relatively quiet. Overall, though, as a downstairs unit in an old house you do hear creaks and thumps as people move around upstairs. And the front bedroom does get some street noise.

There is no central air conditioning, but the current tenants use window units in the summer.

The heat is forced hot water and is normally fine, but has trouble keeping up on the coldest days of the year. We have a pair of oil-filled space heaters the current tenants have used to make up the difference.

The whole house has WiFi, included. Some rooms have ethernet, and I can easily add it to any other rooms that you'd like it in.

There is a front porch with a loveseat, and a backyard with patio furniture. Julia has a garden in front.

The basement is unfinished, with storage available. There's also an attic, up a ladder above unit 2, and you'd be welcome to store some things there as well.

There are woodworking tools in basement, which you'd be welcome to use.

Ten minute walk to the Red Line at Davis, twelve to the Fitchburg commuter rail at Porter, and eight to the Green Line at Ball Sq.

Street parking is relatively uncontested, but you do need to move the car for street sweeping twice a month. We have parking permits for visitors.

Heat, hot water, electricity, internet, etc included.

Cats are fine, and I'm generally happy to feed them and change litter when you're traveling. Dogs are ok if they're unlikely to mess up the space?

My rent map guesses the average 2br in our location would be ~$3400/month, but that's driven partly by units that have been gut renovated and are nicer than this one. On the other hand, we include utilities and internet, while for fancy units those are generally extra. Maybe $3200 would make sense? We're open to negotiation: generally our goal is to try and charge about what a similar unit would go for, but can be flexible.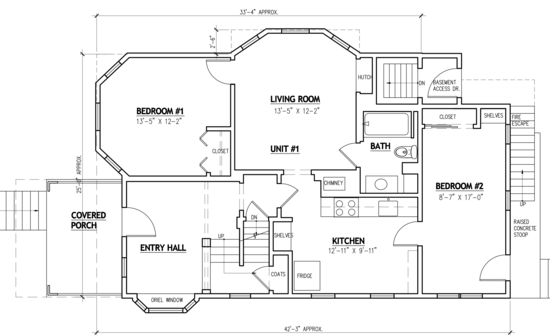 Living room: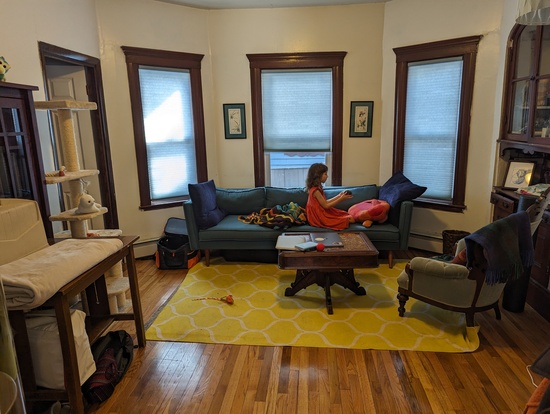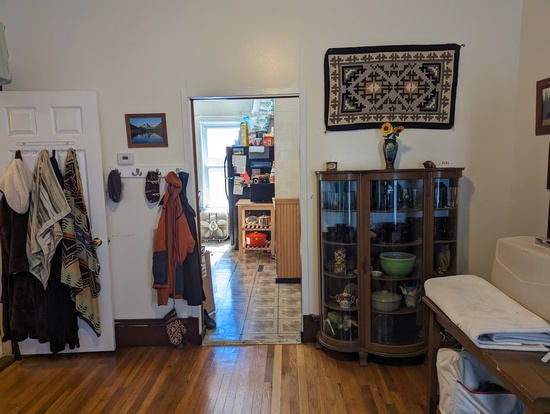 Kitchen: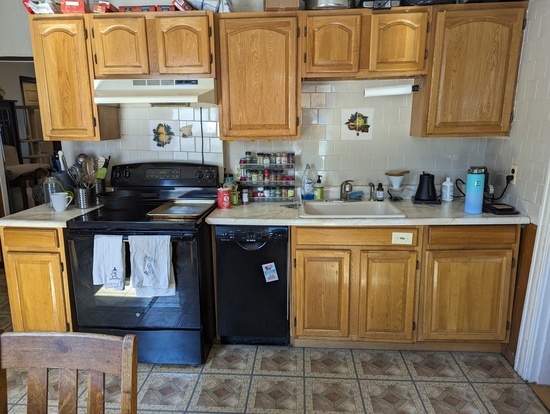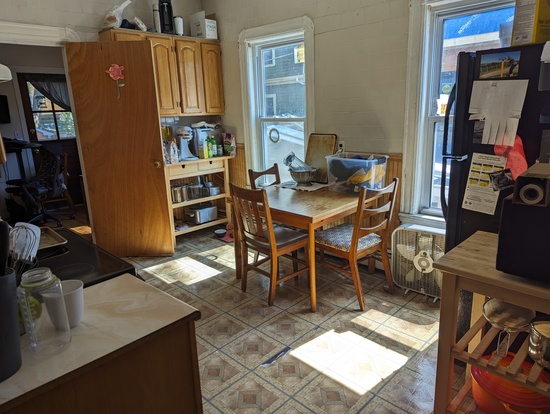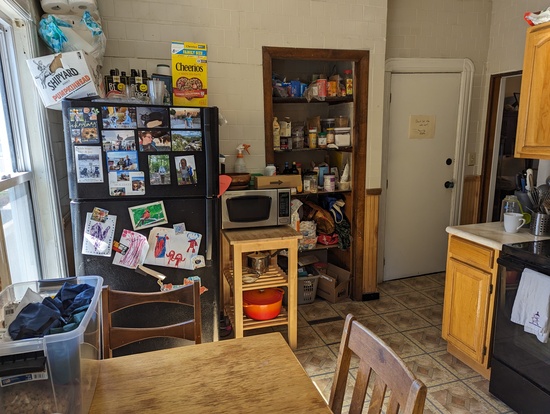 Front bedroom: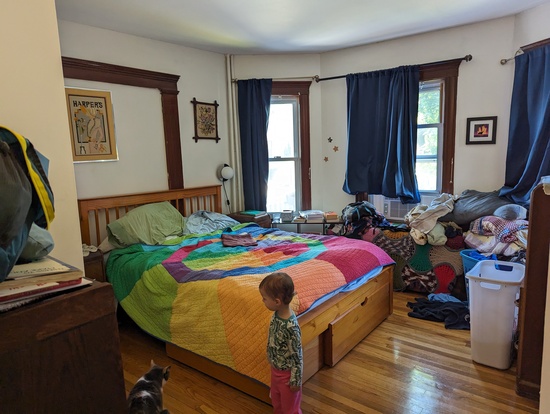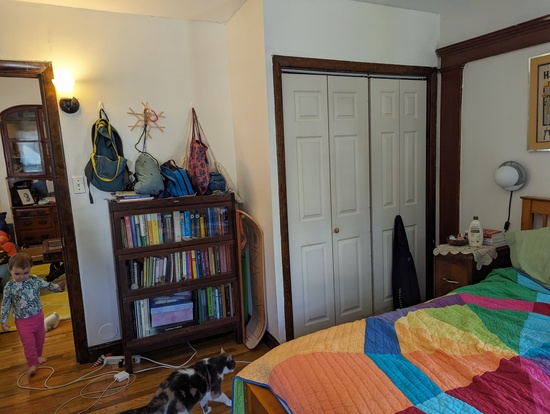 Back bedroom: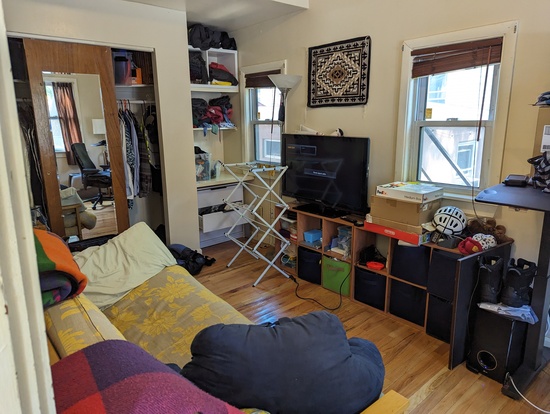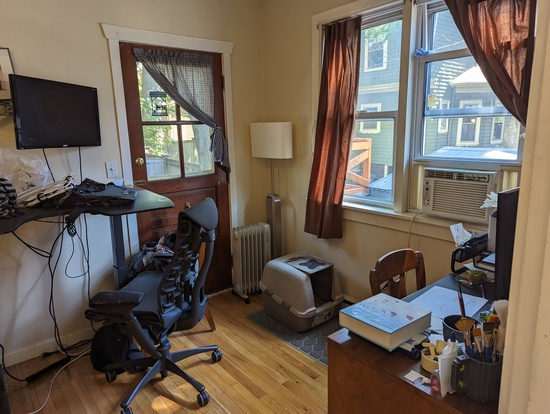 Bathroom: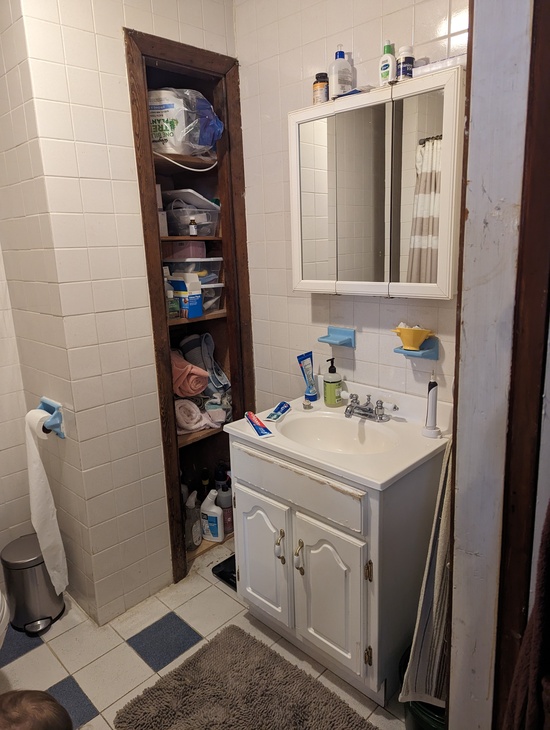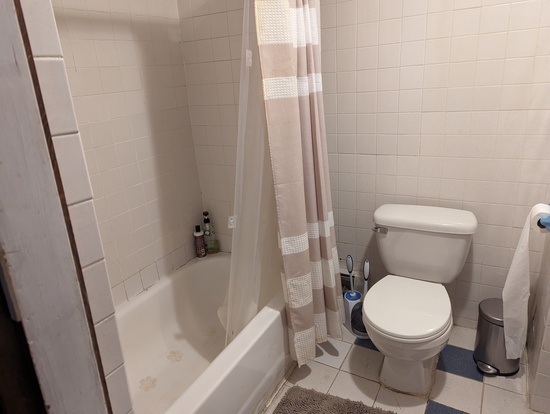 Let me know if you might be interested, if there's anything else you'd like pictures of, or if you have any other questions!