With the coronavirus we haven't been taking buses or taxis, which had mostly limited us to walking distance with our kids. [1] Expanding to bicycling distance would help a lot, so we decided to get a bicycle trailer.
I did a bunch of reading on various forums, and it looked like the Burley Bee was the best fit for us. It holds two children, with a combined weight of 100 lb, while being relatively light and sturdy. It has a rain cover, in case we get caught out in bad weather, and it doesn't convert into a stroller. No suspension, aside from the tires and the give in the fabric, but the kids haven't complained. There's a good amount of storage space in the back of the trailer. The safety flag is included.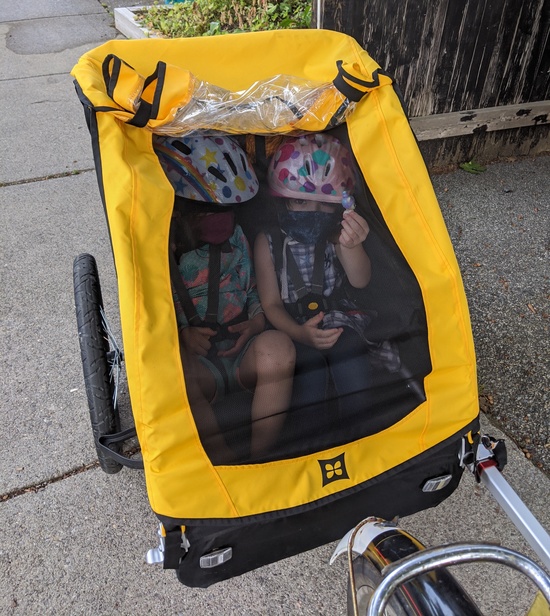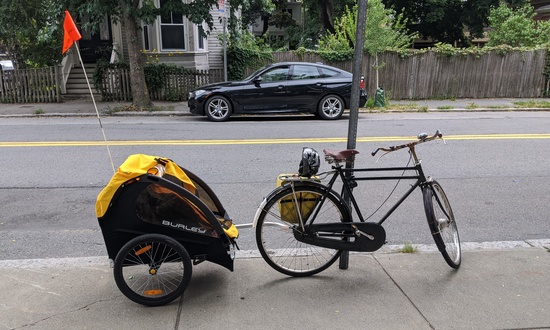 It comes with one bicycle hitch, but it's a very simple part so I bought additional ones so that me, my wife, and our au pair could each have a hitch on our bicycles. The hitch goes onto the rear axle, on the left hand side, and is about 3/16" thick.
We've been using it for about 6 weeks now, and we haven't had any problems. The kids are happy with it, it's easy to bike with, and it generally seems well designed.
(When we decided we wanted to buy one, in late May I think, Amazon, the other big online stores, and our local bike stores were sold out. I did some looking, though, and found a non-local bike store that had some in stock and was happy to ship. At this point, however, it seems to be back in stock at the manufacturer and on Amazon.)

[1] We considered getting a car, but addition to being a lot more expensive, we have two housemates with cars that we can occasionally borrow. With covid their cars have mostly been sitting at home, so getting a third seemed excessive. But for something within a ~30min bike ride of the house a car seems like overkill, and it's not worth the coordination with the car owner / using a favor.
Comment via: facebook