I'm probably lending my
battery system
to someone for a protest. I started writing them an email with instructions but decided to make a blog post instead. So, here's how to use the battery system:
There are three pieces: two batteries and an inverter. Make sure you have all three! The batteries are super heavy (64lb/each) so be very careful moving them. You really don't want to drop them and hurt yourself or someone else.
Once you have the batteries in position, plug the connectors together. There's no wrong way to connect them; the shape of the connector ensures that black goes with black and red with red. Make sure you've connected both batteries; they're a mated pair and always need to drain and charge in parallel. Check that the other connections are still tight, especially the finger-tightened terminals at the inverter which tend to work loose a bit when the it's moved.
Be careful to keep conductive things away from the battery terminals: you want to be very sure that the positive and negative terminals don't get shorted together.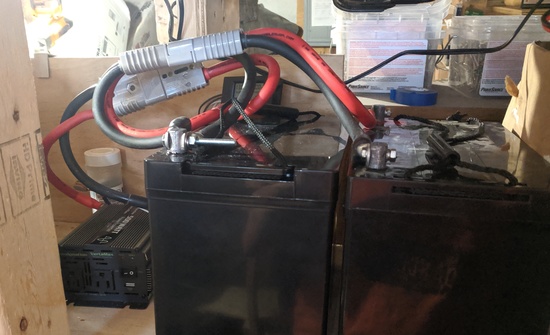 With everything connected the meter's screen should turn on: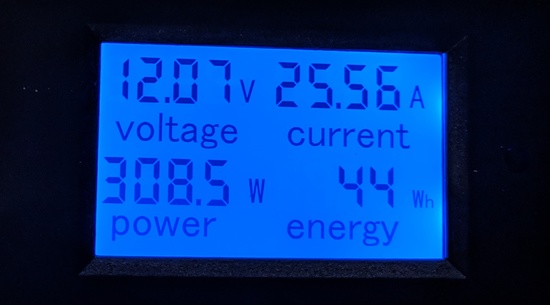 This lets you know how much power you're using and how much power you have left. If it didn't start reading "0 Wh" press something small against the little circular button on the front of the meter until it resets to zero.
Now turn on the inverter. The meter should move from "0 W" / "0 A" to something like "6.5W" / "0.5 A". Now you're ready to go! Plug in to the front of the inverter and start using it.
Keep an eye on the energy usage, the "Wh" number. Try not to run it past 480 Wh, and definitely don't run it past 1,200 Wh.
Have fun, and I hope it works well for you!
Comment via: facebook