After years of playing around with electronic footboards, I'm thinking of going back to an acoustic one. Even though my
most recent electronic one
is more expressive in a lot of ways, and a big
improvement
over what I was doing before, it still doesn't feel as much like an instrument as I'd like it to. So I decided to try out making something simple: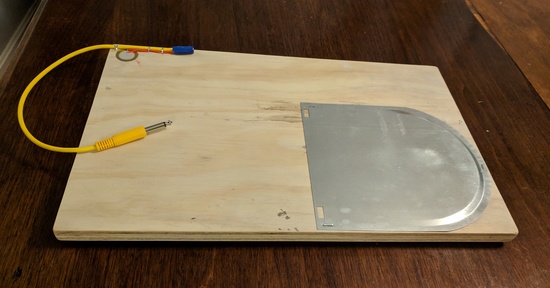 This is a sheet of 3/4" plywood with a piezo pickup glued to the top. Where my toe goes I've stapled a piece of sheet metal I had lying around from another project. On the bottom are four pieces of Sorbothane, a vibration-absorbing rubber-like thing: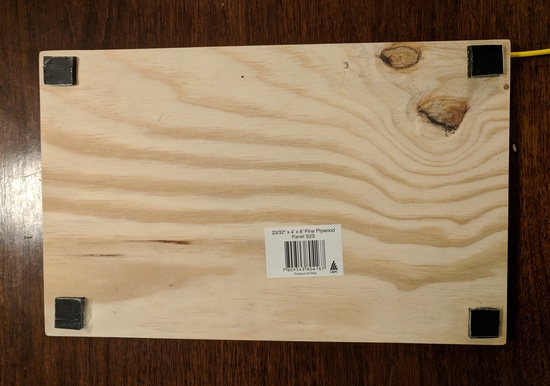 The glue is the same flexible cyanoacrylate I used before, and really this is very similar in materials and design to my footboard v2.
Unlike with standard "French-Canadian feet" I play it barefoot. The heel gets a thumpy kick drum sound, and I slap the toe to get a higher pitched snare-like or rim-like sound. I can play it with one foot, alternating heel and toe, or with two feet.
I need to add a little cover to protect the piezo from getting bumped and making a very loud noise. I also want to experiment with using the signal both acoustically and electronically (to trigger midi sounds) at the same time. And I want to try putting a hard little piece of wood on a spring that I can bring my heel down on to get a clean sharp tap. I'm not sure yet if this will fully replace my electronic foot percussion or whether I'll use both.
Update 2019-06-25: I didn't end up liking this one as much. It's muddier, and it's hard to get a clear distinction between the high and low sounds. The bass is a very full sound, though, and for the kick drum role it's not bad. If anyone would like it I'd be happy to lend/give it.
Comment via: google plus, facebook