The standard advice for how to physically make a donation is something like: if you're donating less than ~$1,000 use a credit card, otherwise use a check or other method with lower fees. For example, GiveWell
writes
:
We recommend that gifts up to $1,000 be made online by credit card. If you are giving more than $1,000, please consider one of these alternatives: Check, Bank Transfer, ...
And the Against Malaria Foundation writes:
However you prefer to make a donation is fine.
All other things being equal, we prefer:

For donations less than US$5,000, an online donation using credit or debit card
For donations more than US$5,000, an offline donation - by bank transfer or by mail (cheque/check) - to eliminate fees.
This makes sense: if the charity is paying 2.25% on your donation, that's $25 on a $1,000 donation, and $125 on a $5,000 one.
The ideal, though, would to be able to donate with a credit card, get credit card rewards, but still have the charity get the full amount. I wouldn't expect this to exist, but it turns out that it does! There are platforms (ex: Facebook) which will cover the credit card fees for charities, so that if you donate $1,000 the charity receives the full $1,000. Not only that, but your purchase is eligible for regular credit card rewards, so 1-3% savings over sending a check.

The main downside of this approach is that you generally can't direct your donation. You can make a donation to the Malaria Consortium, but not to their Seasonal Malaria Chemoprevention program that GiveWell recommends. Likewise, you can donate to the Centre for Effective Altruism but not a specific EA fund.
Again, however, there is an exception: the EA Giving Tuesday team has been coordinating with EA charities to create FB fundraisers for specific programs. At least for 2019 these were only open for a couple weeks leading up to Giving Tuesday, but during that window you could use your credit card for no-fee donations to specific programs at EA charities. Potentially the EA Giving Tuesday folks should advertise this as something to use their fundraisers for, and keep them open a bit longer in December?
Update 2019-01-05: Avi, from the EA Giving Tuesday group, doesn't think this is a good idea.
There could also be other opportunities available on short notice. For example, we could find out in November 2020 that there's something like the 1% PayPal Giving Fund match that was offered in 2017 and 2018. Because these can appear on short notice, I think it's worth trying to have sufficient credit across multiple cards that you could potentially run your annual donations all through your open credit cards on a single day.
The two main ways to increase your available credit are opening new credit cards and asking for credit limit increases on your existing cards. For limit increases there's generally a link in the online banking UI like "Request a Credit Limit Increase". Typically it will bring up a form with fields for annual income and monthly mortgage/rent: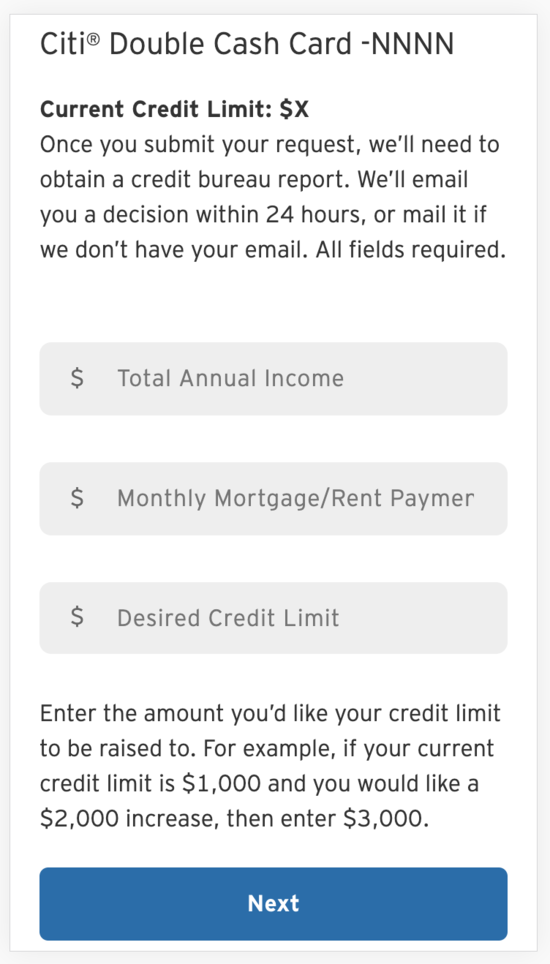 I went through my cards yesterday and asked for 100% limit increases on each. Here's what happened:
| | |
| --- | --- |
| Citi Double Cash (2%) | Got +45%, immediately |
| Capital One Quicksilver (1.5%) | Got +6% immediately |
| Barclays jetBlue (~1.5% equivalent) | Got +100%, by email the next day |
| Alliant Cashback (2.5%) | Couldn't find a link for requesting an increase; I should probably call them. |
In 2019 I was able to run about 80% of our donations through credit cards, which was worth about $3k in rewards.
If your goal is to get rich, donating money, even with tax deductions and credit card rewards, is not going to help. But for money you're donating anyway, ~2% savings is worth optimizing a bit for.
Comment via: facebook, lesswrong, hacker news