Our house has forced hot water heat with three loops, two of baseboards and one of radiators. The first floor unit has a baseboard loop and on cold winter days can't keep up. The tenants have been using electric heat [1] to supplement, but that's annoying for them and resistive electric is much more expensive than gas.
The boiler is a modern efficient one with an outdoor reset. You have a temperature sensor outside, and on warm days the system won't heat the water it's circulating to as high a temperature as on cold days. For example, if it's 55F outside it's wasteful to be circulating 180F water when you could instead have, say, 130F water.
Here's how ours was configured, which I think is the factory default:
This says to circulate 180F water at temperatures of 0F and below, 110F at temperatures of 70F and above, and linearly interpolate between them. Except also never go below 130F.
Since the first floor unit gets too cold in weather well above 0F, it seemed to me that it should be willing to circulate 180F water in somewhat warmer weather. I increased the lower limit from 0F to 15F: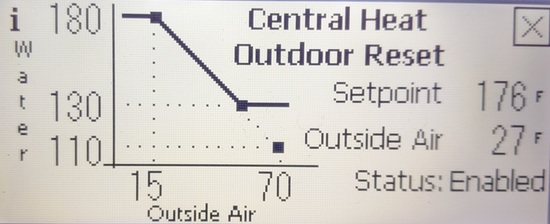 At the current temperature of 27F, this means it's targeting 176F instead of 164F.
I expect this will help the first floor unit, though since I did it yesterday evening and it's much warmer today I don't know if it worked yet. I expect this is set higher than would be ideal for the radiator loop, since those are so massive, and it may increase the cycle time for those rooms. Perhaps instead of going 63F-66F they'll be more like 63F-68F, we'll see.
This will probably increase our gas bill, but if it works it should decrease our electric bill by enough that it saves money. And even if it just saves hassle for our first floor tenants that's reason enough to do it.
One thing that surprises me is that the system isn't designed to be smarter about handling cases it finds itself running constantly. When the loop for unit 1 isn't keeping up, the thermostat never turns off and it runs all day. That seems like a good indication that hotter water is called for. The heating system can determine with the sensors it already has, so why doesn't it?

[1] We got them a big oil-filled radiator, since that looked like the safest kind.