I just configured
Openring
: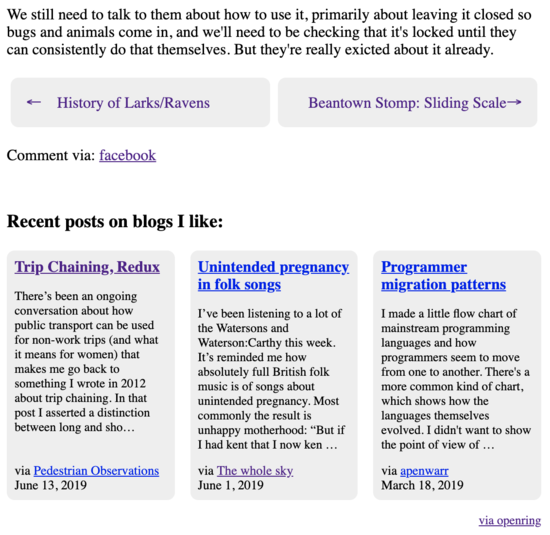 Or, on narrow screens: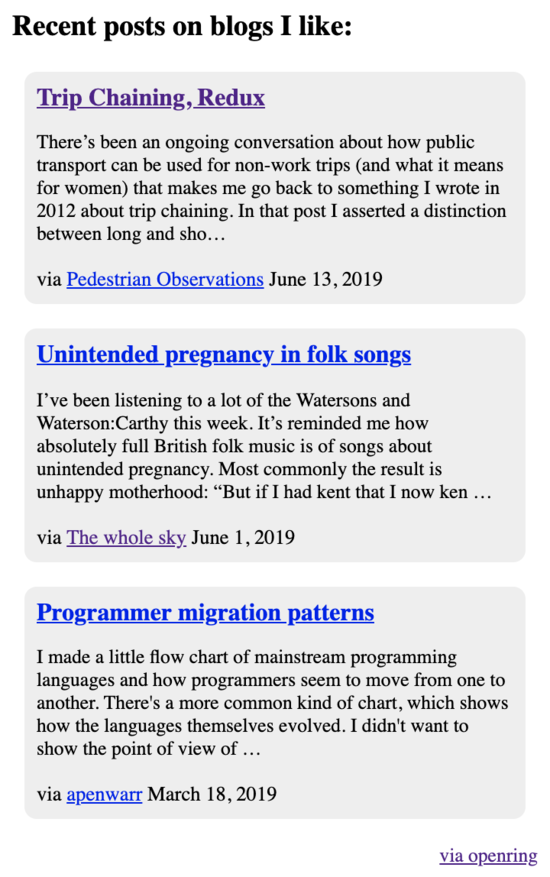 (You can see a live version at the bottom of this post.)
It uses RSS to pull recent posts from a list of blogs, takes the three most recent posts, and shows 255-character previews for each. It lets me point people towards other writing they may enjoy, which is a simple way to manage the curation aspect of "there's so much out there but what would I like to see"?
The traditional solution here is a blogroll, a list of links to other blogs (especially well-done example). The problem is, it's hard to know if you would like a blog from just seeing it's name and author. Showing titles and snippets of posts helps a lot with this.
I'm currently pulling posts from:
Update 2019-06-18: I added several more blogs and also made big page of entries:
Going through the feeds in my feed reader I was pretty sad to see how many people I follow pretty much don't post anymore. I didn't include those here since I didn't want to slow down my feed fetching. I'll probably add more later, as I remember blogs I like that I haven't included.
I have this configured as:

./openring \
  -s http://apenwarr.ca/log/rss.php \
  -s https://www.benkuhn.net/rss/ \
  -s https://thewholesky.wordpress.com/feed/ \
  -s https://danluu.com/atom.xml \
  -s http://www.givinggladly.com/feeds/posts/default \
  -s http://www.holliseaster.com/feed/ \
  -s http://pedestrianobservations.wordpress.com/feed/ \
  < in.html \
  > current-openring.html

Then my static site generator includes that snippet at the bottom of each post.
I needed to tweak the CSS some to get it to look like the rest of my site, and also to switch from putting the posts in a row to a column on sufficiently narrow screens. Maybe there's a way to get flex to do this, but I just used a @media query.
Comment via: facebook