In foot percussion (clogging, tap, podorythmie) people traditionally use both their heel and their toe. A heel strike and toe strike make different noises, and you can play faster by using them both. When I started looking at electronic foot percussion (
2013
) I assumed I would use my heel and toe, and that was how my first versions worked (
youtube
). I had serious trouble with vibration isolation, however, especially when playing live, and after a few gigs I switched to only playing with my heels.
Similarly, if you look at a standard drum kit, a foot only does one thing at once. Traditionally, one foot is on the bass pedal and one is on the hi-hat pedal, and perhaps you might move your foot to a different pedal sometimes, but you don't have one pedal for your toe and one for your heel.
This is not a limitation of acoustic playing: Drum-tec makes a bass drum double pedal with heel-toe operation: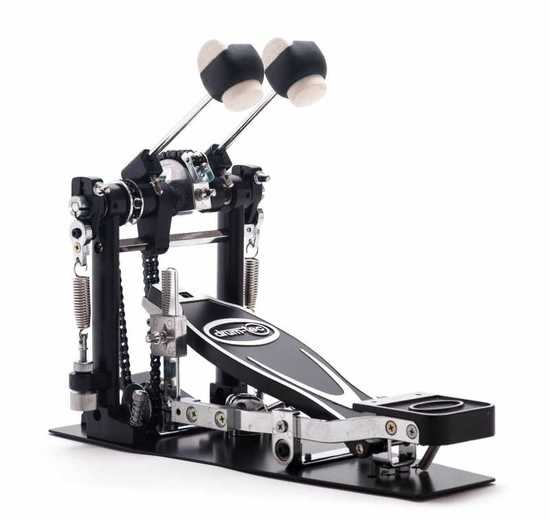 (DP-921FB)
With electronic drums, this should be even more practical, but I still don't see anyone doing this. Well, almost no one:
(
youtube
)
Mezerg plays his kick drum with his left foot and snare with his left heel, by putting his foot diagonally across the two pedals. Similarly, sometimes he plays two different pedals with his right foot as well. Each, individually:
He's playing electronic dance music, and he's playing a live version of a drum machine. He has each of these elements, and he brings them in and out over time. Here's what it sounds like with everything in:
@t=21:36
.
Very occasionally he plays other things (@t=9:51) but it seems like that is mostly not his style?
I've been trying heel-and-toe drumming, and while I'm not very good at it yet, I do like it. I've been using my left heel for the kick and left toe for the snare, right toe for the hi-hat and right heel for a crash or another hi-hat. I've only been doing this for a few days, so these examples are not very good yet, but I think they illustrate what is possible:
(
youtube
)
(
youtube
)
(
youtube
)